CM Punk & UFC crew train with New Jersey Devils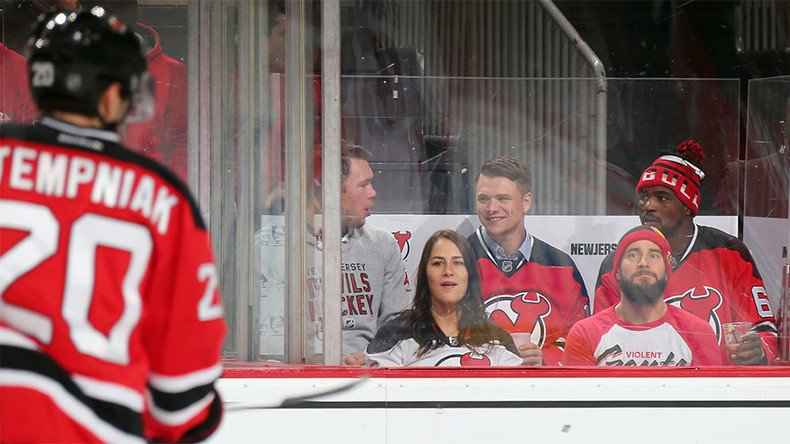 Former WWE star CM Punk stepped up his preparations for his debut in the UFC by working out with the NHL's New Jersey Devils earlier this week.
Punk (born Phil Brooks), was joined by a group of UFC fighters including Corey Anderson and Chris Wade, as well as the UFC manager of athlete development Chris Provino, as part of the UFC's cross-training program.
The tie-in was obviously designed as a promotional activity, with Punk, a big Chicago Blackhawks fan, later taking a face-off against Devils defenseman Damon Severson.
The UFC team also participated in basic Olympic lifting and light sparring:
The Prudential Center, home of the Devils, will host the 'UFC on Fox 18' event on January 30, with the card headlined by a light-heavyweight fight between top contenders Ryan Bader and Anthony Johnson.
Punk follows Bautista and Lesnar into UFC
Punk signed a deal with the UFC in December 2014 after quitting the WWE over creative disagreements.
Under the watchful eye of Chris Provino, Punk has been training hard ahead of his expected debut later this year, with rumors that he will be on the UFC 200 card.
He's sparred with UFC lightweight champion Anthony Pettis and One FC welterweight champion Ben Askren, and despite many fans criticizing his presence in the promotion, Punk is committed to being a success in the championship.
While Punk is following the likes of Brock Lesnar into MMA fighting, he doesn't have the same arsenal of skills to call on.
Lesnar had a long history in amateur wrestling, winning an NCAA championship at the University of Minnesota; although Punk has trained a little in jiu-jitsu, he entered the UFC as a complete novice.
Punk's first bout could be against Mickey Gall, who was signed by the UFC after impressing its president, Dana White, during the filming of a webcast series.
Whenever his debut happens, Punk is adamant he'll hit the ground running: "I'm 100 percent serious about this," he said. "I wouldn't devote this much of my life and have gone through all of this for a little bit of publicity.
"I can get publicity a lot more easily than I can by training to fight. I'm fighting because I love to fight and compete. When you get right down to it, that's what this is all about."
You can share this story on social media: