Football's oligarchs: Real Madrid top money league, Man Utd may overtake next year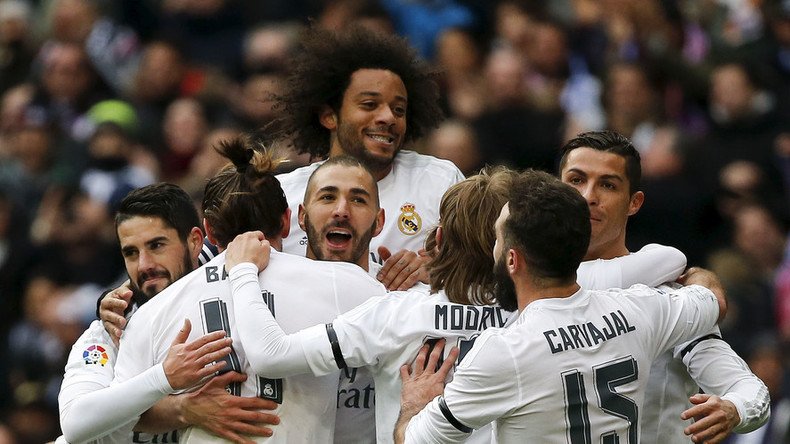 Spanish giants Real Madrid have topped Deloitte's Football Money League for the 11th year in a row. However, Manchester United, in 3rd place this year, have a good chance of overtaking Real at the top of football's rich list next year.
Real Madrid and Spanish rivals Barcelona occupy the top two spots in the Deloitte Football Money League 2016, with revenues of €577 million (US$630 million) and €560.8 million respectively.
Both sides saw a growth in finances thanks to improved commercial revenue and matchday income.
For Barcelona, who won five trophies in 2015, it was a case of on-pitch achievements translating to success off the field, as the club overtook Manchester United to move into second place in the list.
READ MORE: Messi and Suarez lead Barcelona to Club World Cup title
United dropped from second to third in the table with revenue of €519.5 million, but according to Deloitte are well-placed to jump to the top of the league next year after signing a number of significant new commercial deals, including kit sponsorship with Adidas and an improved TV rights package as part of the Premier League. The club also returned to the Champions League this year, which will help boost its coffers.
The rich just keep getting richer, and for the first time the top three teams on the list all earned revenues of more than €500 million.
The Football Money League is an annual ranking of football clubs based on revenue generated from football-related operations. It is produced by the accountancy firm Deloitte in January/February, and covers the previous season.
Aside from Real, Barca and Utd, Europe's other big sides were all predictably on the list.
Paris Saint-Germain's quest to become a powerhouse of European football seems to be gathering pace, as they overtook Bayern Munich to move to fourth in the list, with revenues of €480.8 million – an increase of 2% on last year.
The Germans saw a 3% drop in revenue, to €474.
English sides occupy the places directly behind Bayern, with Manchester City in sixth, Arsenal in seventh, Chelsea in eighth and Liverpool in ninth.
Italian side Juventus, beaten Champions League finalists in 2015, round out the top ten with €323 million.
Of the top 20 teams in the table, English Premier League teams occupy nine places – the most from any single league. Tottenham are in 11th place, and Everton in 18th, and even league strugglers Newcastle United make the list - in 17th place with revenue of €169.3 million. West Ham are a new entry to soccer's wealthy elite in 20th position, generating income of €160.9 million.
Despite English sides' travails in Europe on the pitch, it seems they are in rude health off it, with strong commercial performance and more money to come thanks to a bumper £5.1 billion (US$7 billion) television rights deal which kicks in from the 2016-17 season.
READ MORE: Have TV billions made the English Premier League more competitive?
Italy is the next-best represented nation in the top 20, with four sides making the list: Juve, AC Milan, AS Roma and Internazionale (Inter Milan).
Spanish sides have dominated Europe in recent years, but only have three teams among football's 20 richest – with Atletico Madrid joining Real and Barcelona.
Germany also has three sides in the top 20 – Bayern, Borussia Dortmund and Schalke 04.
Asked about whether football's commercial success could continue, the report's author, Deloitte partner Dan Jones, said: "I still think this is a growth market… If anything, there will be a small acceleration of growth in the next few years. It might level off a little bit, but that is what it will be rather than any sort of decline," the BBC reported.
You can share this story on social media: