Messi still tops football valuation list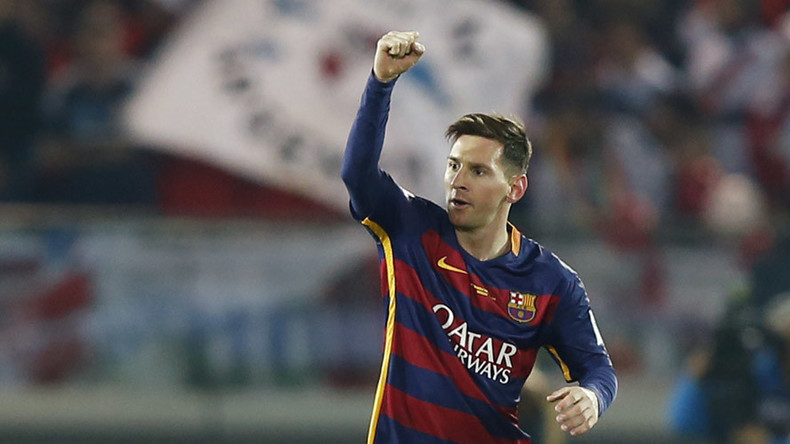 Barcelona star Lionel Messi is still the most valuable footballer in the world, but teammate Neymar is quickly catching him up.
The valuations, calculated by the CIES Football Observatory, are based on an economic model which analyzes transfer fees, performances and personal characteristics of players, including age, position and contract length.
Footballers from the Premier League, La Liga, Bundesliga, Serie A and Ligue 1 have been assessed, with the study showing that Messi's value has dropped by $17 million in the last six months to $272 million.
Neymar's brilliant form has seen his value rise from $102m to $170m. During 2015 the 23-year-old Brazilian scored 25 goals in 34 La Liga games, plus nine goals in 12 Champions League matches. With the forward currently negotiating a new contract with Barca, it's likely his value will continue to soar.
READ MORE: Neymar signs for Team Jordan
Chelsea's Eden Hazard is in third place despite a disappointing few months with the Premier League champions. His value has dropped by $13m to $141m, but with a possible move to Real Madrid or Paris Saint-Germain on the cards his place near the top of the list seems assured.
Cristiano Ronaldo has also fallen slightly in value, from $129m to $124m, but this is as a result of the Real Madrid star's age. He turns 31 in February and along with Arsenal's Santi Cazorla is the only player aged 30 and above in the top 100.
A stellar year for Tottenham and England striker Harry Kane has seen him jump to fifth position in the rankings with a value of $99 million. The 22-year-old finished ahead of the likes of Luis Suarez, Sergio Aguero and Paul Pogba.
With a possible Champions league qualification on the cards for the London-based club, Kane could break through the $100 million barrier by the end of the season.
Top 10 transfer values - January 2016:
1. Lionel Messi (Barcelona) – $272m
2. Neymar (Barcelona) – $170m
3. Eden Hazard (Chelsea) – $141m
4. Cristiano Ronaldo (Real Madrid) – $124m
5. Harry Kane (Tottenham) – $99m
6. Raheem Sterling (Manchester City) – $98m
7. Antonine Griezmann (Atletico Madrid) – $95m
8. Luis Suarez (Barcelona) – $93m
9. Sergio Aguero (Manchester City) – $89m
10. Alexis Sanchez (Arsenal) – $89m
You can share this story on social media: