Neymar signs for Team Jordan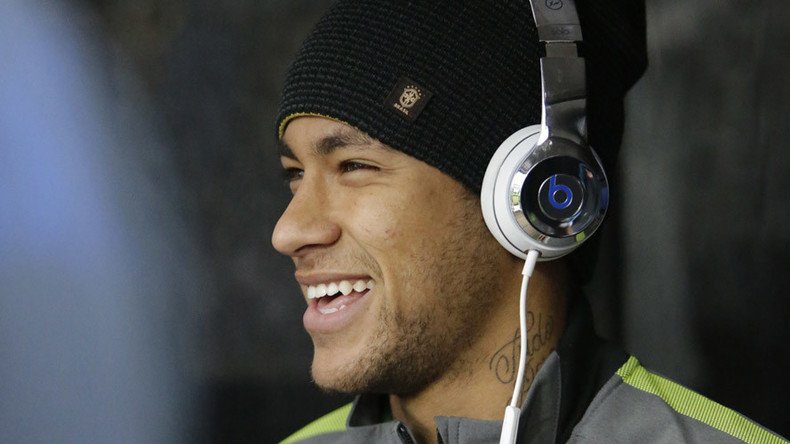 Neymar's rise up the footballing ranks is being mirrored off the field, after Nike confirmed he will be the first footballer to have his own custom-made pair of Air Jordan trainers.
The Barcelona striker has quickly become the face of Nike Football and this new deal will see him join top basketball stars LeBron James and Dwayne Wade on Team Jordan.
With 16 goals for Barcelona so far this season, Neymar is delivering the goods on the field and, after narrowly missing out on a top-20 place in the Forbes' list of the world's highest-paid athletes, the 23-year-old is clearly using his performances to boost his personal brand.
Neymar has already worked on numerous campaigns with Nike, but with the launch of the Air Jordan 5 Low believed to be set for autumn this year, the relationship will move on to a whole new level.
The Barca forward still has some way to go to match the earnings of Nike's established stars.
Real Madrid's Cristiano Ronaldo ended 2015 as the third highest-paid athlete in the world, behind boxers Floyd Mayweather and Manny Pacquiao.
His $79.6 million earnings were nearly $13 million more than James and $52 million ahead of Wade, although James' endorsements brought in $17 million more than Ronaldo's.
Golfer Rory McIlroy ($48.3 million) and footballer Zlatan Ibrahimovic ($39.1 million) also earned more than the $31 million Neymar collected last year.
The deal for the new trainer, combined with an improved bumper contract to come at Barcelona and a well-deserved nomination for the upcoming Ballon d'Or award, should all significantly improve the Brazilian's earnings during 2016.
His endorsement income of $17 million will be greatly enhanced by the new deal and could even put him on par or beat the $27 million generated by Ronaldo in 2015.
With age on his side, Neymar appears well on course to overtake the likes of Ronaldo and Messi to establish himself as the undisputed top footballer in the world - both on and off the field.
While the current athletes on Nike's books rake in the cash, the Team Jordan brand continues to provide former NBA star Michael Jordan with a more than comfortable lifestyle.
Jordan's earnings from the brand crashed through the $100-million mark in 2014, and with an increasing number of marketable sports men and women on Nike's portfolio, the cash looks set to keep rolling in.
You can share this story on social media: