2016 NBA All-Star Game: Bryant, Curry lead first voting results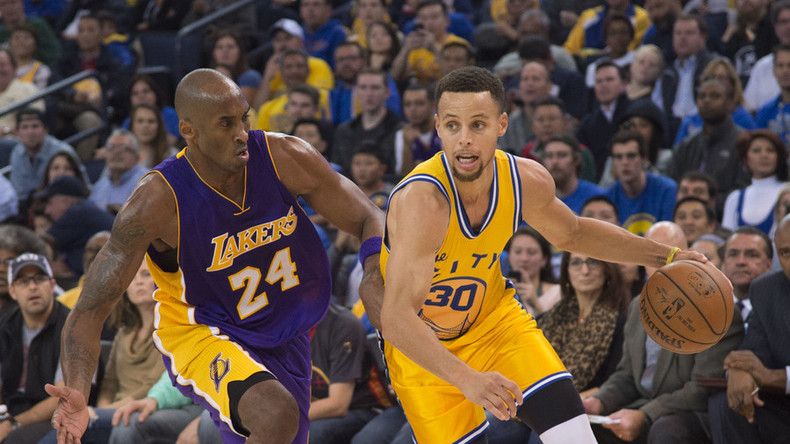 Kobe Bryant and Stephen Curry led the first voting results announced by NBA.com for the 2016 NBA All-Star Game, with Bryant leading the pack by a wide margin.
Bryant is in his 20th and last season in the NBA and is the leading scorer in NBA All-Star history (280 points). With 17 All-Star selections already to his name, he is second in the all-time list behind Kareem Abdul-Jabbar on 19.
Los Angeles Lakers' Bryant has 719,235 votes - far ahead of last year's MVP Stephen Curry (510,202), and more than twice that of the highest voted player in the Eastern Conference, LeBron James (357,937).
When asked about his lead in the voting results after the Lakers lost 94-84 to the Los Angeles Clippers on Friday night, Bryant said he had been surprised by the votes.
"Yes. Yes. Listen, I was making a little coffee run this morning, got some gas, and decided to just go on Instagram and peruse," he said, "and [I] saw the damn votes, and I was like, 'What the hell?' Shocked doesn't do it justice."
"It's exciting. What can I say? Just thankful," he added.
Bryant has struggled this season in a young Lakers team, averaging 17.4 points per game and shooting just 34.4 percent from the field.
This is the first year Bryant has been listed as a member of the frontcourt in All-Star voting, having been listed as a guard in previous years. He's placed well ahead of Oklahoma City's Kevin Durant (349,473) on the Western Conference frontcourt list. Durant teammate Russell Westbrook (267,699) is second behind Curry in the Western Conference guards list, while Miami Heat's Dwayne Wade (300,595) heads the Eastern Conference guards list.
Clippers forward Blake Griffin said before Friday's game that a player of Bryant's stature should be met with deference and understanding from other deserving players.
"Kobe's a guy that's done so much for this league and has such a big imprint on the game of basketball for the past 20 years," Griffin said. "It's just a legacy thing. Every year, guys don't get to play in the All-Star Game that probably deserve it because of the 12-man roster. If it was me, you kind of understand, you just tip the cap to a guy who has gone before you, who has paved the road for a lot of guys."
Curry cementing status as NBA's top player
Leaving aside Bryant's votes, the obvious frontrunner is the Golden State Warriors' Stephen Curry, who topped the All-Star voting last year, went on to be the league MVP and led his team to a championship. He's continued - or upped - his game from last year, with 31.2 points per game this season and the Warriors have raced out to the NBA's best record and are contenders to challenge the 72-10 season record set by the Chicago Bulls in 1996.
Curry, 27, on his way to earn another MVP trophy, feels he's the league's top player at the moment. When asked by Time magazine about his status [as the best player in the world], Curry said:
"In my mind, yes. That's how I have confidence out there that I can play at a high level every night.
"I don't get into debates, arguing with people about why I am versus somebody else. I feel like anybody who's at the level I'm trying to be at, if you don't think that when you're on the floor, then you're doing yourself a disservice."
The All-Star starters will be announced on January 21, while the reserves will be announced on January 28. The 2016 All-Star Game will be played on February 14 at the Air Canada Centre in Toronto. This is the first time the game will be held outside the United States.
You can share this story on social media: