NBA: Warriors' hot streak ended at 28 by the Bucks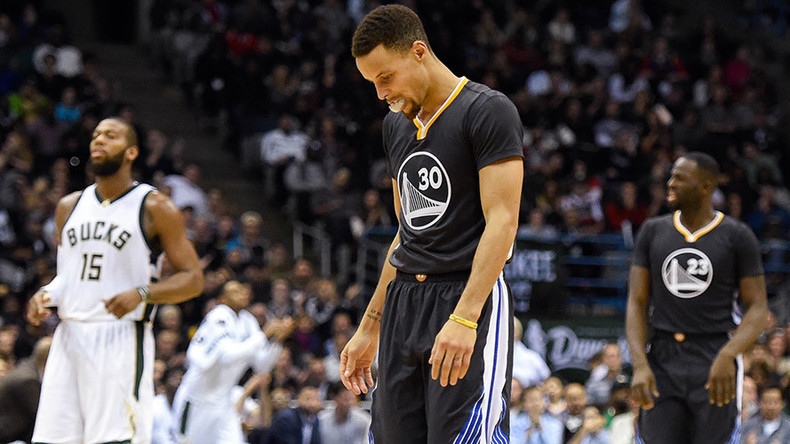 Golden State Warriors' long winning streak was finally snapped as they fell to a 108-95 defeat at Milwaukee Bucks on Saturday.
Chasing the 1971-72 Los Angeles Lakers' record of 33 games, the Warriors were finally halted at 28 – the second longest in the history of the NBA.
Warriors had won 24 games in a row since the start of the season, shattering the previous record of 15 set by the 1993-94 Houston Rockets and the 1948-49 Washington Capitols.
A victory against the Bucks would have seen them become the first team in NBA history to go 7-0 on the road.
"We didn't have it tonight," interim coach Luke Walton said. "That's why it is so hard to do what these guys have done so far. It caught up to us."
After needing two overtimes to win at Boston on Friday tiredness played its part, with the normally prolific Steph Curry shooting 10-of-21 from the field, including two of eight from three-point territory, for a 28-point night.
Bucks led by over 10 points for most of the contest and although Warriors closed the gap to one on a couple of occasions they never looked like winning.
"We showed some spurts to get back into the game. We got some stops," Curry said. "But for 48 minutes, I don't think anybody can say we played as hard as they did."
Golden State can now concentrate on chasing down the 1995-96 Chicago Bulls' 72-10 season record, the NBA's all-time best – after a 24-1 start, a 49-8 finish doesn't seem insurmountable.
The Warriors have a few days to recover from their exhausting road trip, ahead of opening a five game homestand against the Phoenix Suns on Wednesday.
Attempting to beat the Lakers' record was a sideshow to the main target of clinching a second consecutive NBA title. The defeat offers the Warriors a chance to regroup and refocus their attentions on the bigger picture.
"It's tough. Nobody wanted to see it come to an end," Curry said. "Thirty-three was within our grasp. But 24-1, going home, hopefully we handle business and get back to playing our best basketball, and winning games in the process."