Email leak shows IAAF officials conspired to hide Russian doping evidence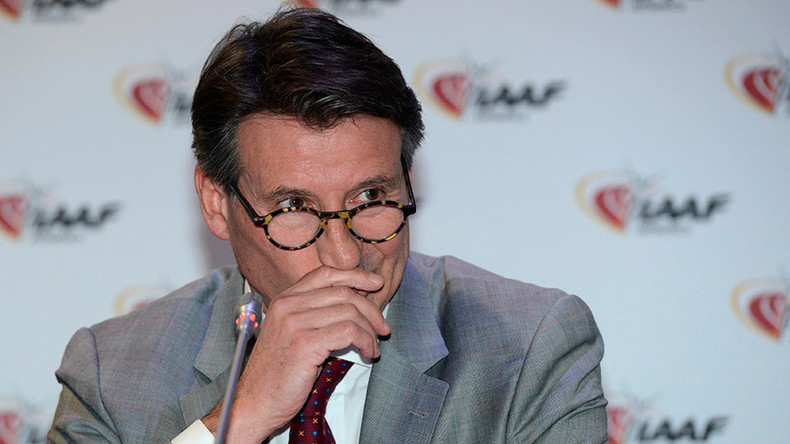 IAAF head Sebastian Coe is under increasing pressure after an email was leaked showing his closest aide knew about several Russian doping cases in 2013, and discussed a plan to delay naming those involved before the World Championships in Moscow that year.
The revelations have led to Nick Davies standing down from his role as deputy general secretary of the International Association of Athletics Federations (IAAF), pending a review into his behavior.
As Davies explained in a "very secret" email to former IAAF marketing executive Papa Massata Diack, son of the former IAAF president Lamine Diack, he planned to "sit down to talk with the Anti-Doping Department and understand exactly who are the [Russian] 'corpses' that are still in the cupboard, in relation to doping."
The email, published by French newspaper Le Monde, also suggests that athletics' governing body could use Coe's political influence and his sports marketing firm Chime Sports Media (CSM) as an "unofficial PR campaign" to "stop attacks planned by the British press towards Russia."
Davies said the decision to stand down was taken because of the intense media speculation surrounding the email he sent in July 2013.
"What has become apparent is that I have become the story," he said in a statement.
"This is not helpful at the current time, with ongoing criminal investigations by the French police, the IAAF's ethics board or the World Anti-Doping Agency (WADA) - all of whom I have voluntarily offered full assistance to and will continue to do so.
"In order to demonstrate that I am willing to have all allegations of unethical behavior on my part in 2013 properly and fairly investigated, I have referred my emails to Papa Massata Diack in 2013, my statements and the circumstances of the emails, to the IAAF ethics board.
"I have decided to step aside from my role with the IAAF until such time as the ethics board is able to review the matter properly and decide if I am responsible for any breach of the IAAF code of ethics."
At the time of the email, Russia's suitability to host the 2013 World Championships was being questioned after a series of doping allegations. In the four months after the event the IAAF announced sanctions against 16 Russian athletes.
The email is bound to cause Coe huge embarrassment given that one of his first acts after becoming IAAF president in August was to promote Davies from press spokesman to run his office. It may also make those skeptical of his promises to change the sport further question his judgment.
The IAAF president is currently facing challenges on numerous fronts.
READ MORE: Former IAAF president asked Russia for $2m for political campaign – Le Monde

Dick Pound has promised a "wow factor" when he releases his second WADA commission report into the IAAF and doping on January 14. Several other former senior figures at the IAAF, including Papa Massata and Lamine Diack, the former treasurer Valentin Balakhnichev, Gabriel Dollé and Lamine Diack's special legal adviser Habib Cissé, are also being investigated by French police for allegedly taking bribes to cover up positive tests.
Papa Diack, Dollé and Balakhnichev are also awaiting the decision of the IAAF's ethics committee on charges of extorting money from Russian athlete Liliya Shobukhova, which is also expected in January. They deny the charges but face life bans if found guilty.
READ MORE: Former IAAF officials face life bans over Shobukhova doping extortion

Coe's spokeswoman, Jackie Brock-Doyle, said her client would not be responding to the story. "What is very clear is that Sebastian will not respond to emails to which he knows nothing about," she said.