Punching hard for Xmas: MMA great Monson gets Russian passport, will enter ring under Russian flag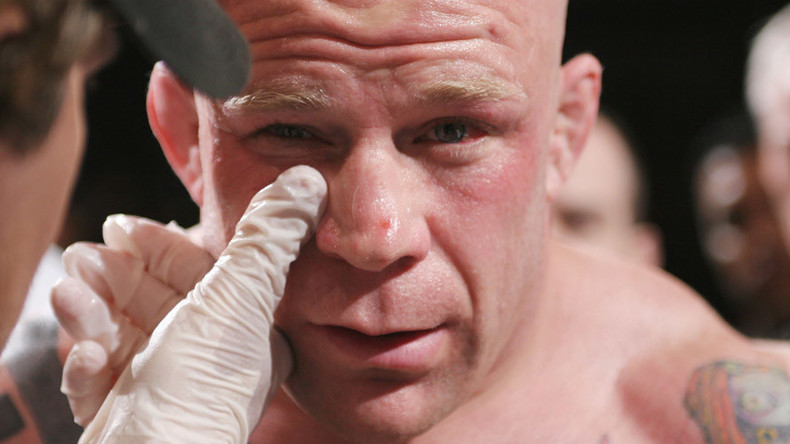 Mixed martial arts fighter Jeff Monson is the latest sports star to receive Russian citizenship after legendry boxer Roy Jones Jr. was given a Russian passport. Monson is set to take part in his first fight for his new country on Christmas Day.
"It's true that my request to receive Russian citizenship has been approved. Now I need to wait for a couple of days and wait for my passport. However, all of the necessary signatures have been taken care of," Monson told the R-Sport news agency.
Jeff Monson with MMA legend Fedor Emelianenko
"On Friday I will enter the ring under a Russian flag. I'm relieved that it finally happened cause it's been a long time, I'm very excited. I feel a lot of pressure to fight for Russia, it's a big responsibility," he added.
The 44-year-old is one of the best-known mixed martial arts fighters in the business, with 58 wins in his career. He is hoping to notch up win number 59 and his first for Russia on December 25, when he faces Cameroon's Donald Njatah in a fight just outside Moscow.
Monson is a colorful character outside of the ring and a self-confessed anarchist. He has been a fierce critic of US foreign policy, lamenting Washington's involvement in foreign wars and US bases popping up around the globe, while he also championed the 'Occupy Wall Street' movement.
"We are an empire. Like I said, we are trying to spread American capitalism, American 'democracy' throughout the world, to let free trade of money, our businesses and corporations, infiltrate other countries, have new markets open up all over the world. I think it's all a part of a master plan," he told RT in an interview in 2013.
Monson is not the only sportsmen to have been granted citizenship recently. During his prime, Roy Jones Jr. was regarded as one of the best pound-for-pound boxers in the world. He was granted Russian citizenship by President Vladimir Putin in September and received his new passport at a ceremony in Moscow in October.
The 46-year-old entered the ring on December 12 against Enzo Maccarinelli, but suffered a demoralizing defeat against the Briton, leading some members of the boxing community to call for him to hang up his gloves for good.
You can share this story on social media: