Athletes storm Athletics Kenya HQ in protest against corruption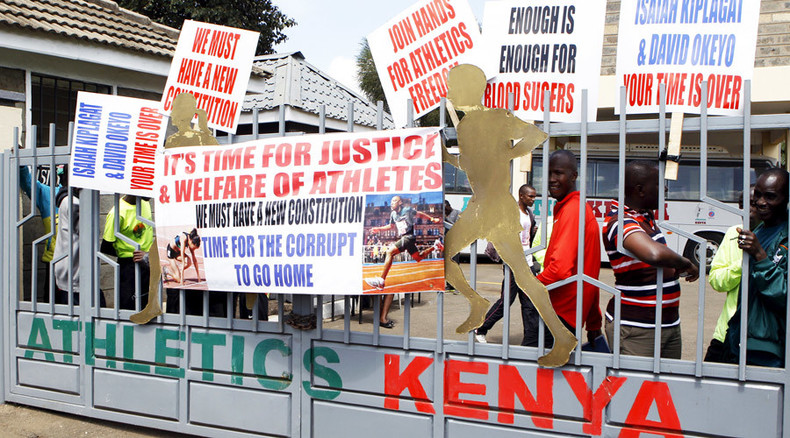 Dozens of athletes entered Athletics Kenya headquarters on Monday morning and barricaded themselves in. They called on senior officials to stand down after allegations of secret payments from Nike.
Monday morning in Nairobi saw 40-50 athletes - none of them star names - enter the headquarters of Kenya athletics' governing body at 7.30am and take over the building. They ordered staff to leave and barricaded themselves inside.
The demonstrators called on Isaiah Kipligat, the chairman of Athletics Kenya - to resign, with the group's leader, Julius Ndwegwa, saying:
"Everybody is complaining against him. The doping menace was caused by him under his office so we want to see a clean sport and we need change to happen with immediate effect. We are looking forward to being led by athletes, those who understand the pain of running."
Detectives have questioned three senior Athletics Kenya officials – the chairman Isaiah Kiplagat, the vice-president David Okeyo, and its former treasurer, Kinyua – over claims they pocketed close to $700,000 from Nike, an accusation Athletics Kenya and the sportswear manufacturer have strongly denied.
In an official statement, the Professional Athletes' Association of Kenya (PAAK), which organized the demonstration, said it was "taking united action to bring sanity to Athletics Kenya management and leadership."
Some other athletes not present at the protest voiced their support, with the 400m hurdles world champions, Nicholas Bett, posting on Facebook: "Isaiah Kiplagat must go, we are tired of his leadership, we need change."
However, others preached caution, with London Marathon winner Eliud Kipchoge warning: "Anger only breeds more anger and eventually fuels violence, on the streets or in professional sports."
Athletics Kenya chairman Kipligat was dismissive of the protesters, saying: "Serious athletes are training. They have no time for demonstrations."
Some have cast doubt on PAAK's motives, calling it a power struggle between them and AK and not a serious protest against corruption in Athletics.