World is becoming more leftist – Russian Communist Party chief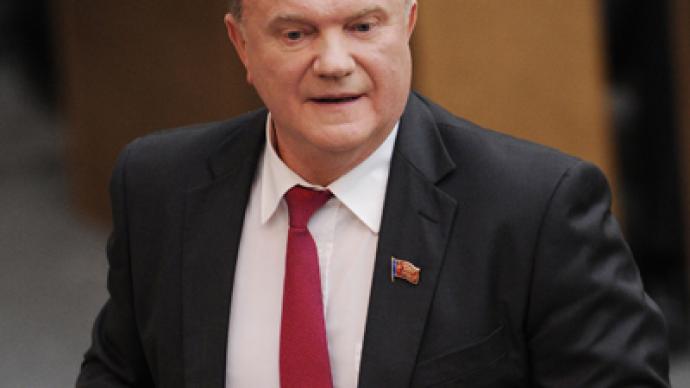 Leader of the Russian Communist Party Gennady Zyuganov has predicted the rise of leftist ideologies across the world and in Russia, warning that if the country's leadership continues to only "imitate political changes," it may be overthrown.
"Undoubtedly, we will see a turn to the left and the movement toward a fairer society," Zuyganov said in an interview with Svobodnaya Pressa ('Free Media'). "It's a world trend that will affect [Russia] as well." Globalization based on speculative finance resulted in the current recession and the eurozone ciris, and the public knows that "a financial monster must be defeated and social policies must be changed completely," the Communist Party (KPRF) chair said. In his opinion, Russia has always been a leftist nation. Zyuganov is therefore confident that current levels of income inequality in the country will not last forever.The KPRF head added that the current crisis is also an existential one: Humanity is uncomfortable living in an unequal world without ideals or dreams, only greed, consumerism and double standards.In Zyuganov's opinion, politics in Russia should be based on four principles: Strong power, collectivism, spirituality and justice. "That said, strong power doesn't mean a repressive state. Nothing can be achieved today by police methods," he explained, adding that the government should be controlled by citizens. Zyuganov also touched on the wave of antigovernment protests that followed the December 2011 parliamentary elections, which many claimed were unfair or rigged.The latest large-scale opposition protest – the 'March of Millions' – was held on September 15. According to varying estimates, anywhere from 14,000 to 100,000 people attended the event and demanded the release of 'political prisoners,' and called for early presidential and parliamentary elections and political reforms. There "are several smart and sensible guys" among the participants of such rallies, Zyuganov said. Many ordinary people – like doctors and teachers – take part in these events and the Communist red flags "are in majority" there, he said, adding that the protesters do not belong to some "creative class that is too well off, as the government attempts to present it." He described them as average citizens and patriots "shocked" by the direction Russia has taken.The veteran politician believes that "bankrupt liberal functionaries" are trying to exploit the rising tide of protester sentiment. They won't succeed, however, since people "hate them." "They want to privatize popular protest, the same way they have privatized everything," Zyuganov said.
You can share this story on social media: