Extremist makeover: Communists blast Lenin 'witch-hunt'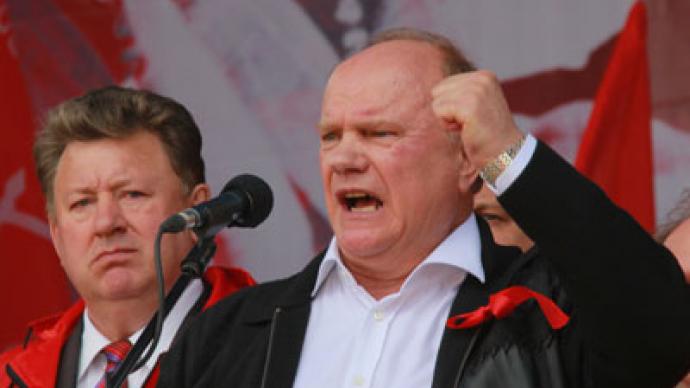 Russia's Communist Party (KPRF) is strongly opposed to probing works of its progenitors, such as the Bolshevik Revolution leader Vladimir Lenin, for extremism.
"If we launch a 'witch-hunt' and attempt to apply modern law to the historical and political writings of our predecessors, we may overstep the mark," Communist MP Sergey Obukhov stated at a media conference on Monday.Earlier, Russian historian Vladimir Lavrov asked the head of the country's Investigative Committee, Aleksandr Bastrykin, to carry out an expert evaluation of Lenin's works, as they "incited social hatred by the propaganda of people's inferiority based of their social affiliation."Commenting on the matter, Obukhov noted that he will not be surprised if ideas to probe "the Bible, the New Testament and chronicles [history of the Eastern Slavs]" for extremism are also voiced soon. The Communists have also vowed not to allow the mummified body of the revolutionary leader be removed from the mausoleum on Red Square and buried. According to KPRF leader Gennady Zyuganov, keeping Lenin's body where it is "complies with Orthodox Christian canons and traditions." He pointed out that in Kiev's Pechersk Lavra – an Orthodox cave monastery founded back in 11th century – the dead were not committed to the ground.For instance, Zyuganov observed, relics of St. Ilya Muromets are stored at the monastery in the Ukrainian capital. The KPRF chairman also noted that it is impossible to rebury the remains of prominent Communist activists and revolutionaries laid to rest in the Kremlin Wall Necropolis – which is located on both sides of the mausoleum. Removing their bodies from the site and burying them in another place is only possible with the consent of relatives. So far, Zyuganov said, no one has asked to do so. The dispute on whether Vladimir Lenin's body should be relocated has been going on for over 20 years. A poll published earlier this year revealed though that more than half of all Russians believe it is time for the remains of the Bolshevik leader to be interred. After Lenin's death on January 21, 1924, his body was embalmed and placed in the mausoleum built in the very center of Moscow. It was opened for the public, who queued up for hours to see the body of the legendary Bolshevik leader. The top of the memorial was used by the Communist leadership as a tribune during parades and demonstrations.