'Western cops over-the-top against protesters' – Moscow
Published time: 17 May, 2012 13:49
Edited time: 17 May, 2012 17:49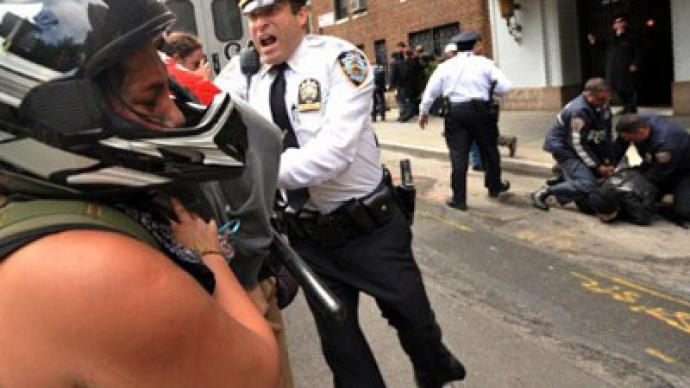 Moscow is concerned over the disproportionate use of police force against peaceful protesters in the US and Europe says the Foreign Ministry representative on Human Rights, Democracy and Rule of Law.
­"Amid the global economic crisis, demonstrations and other public protests are continuing in the United States and some EU member countries," said Konstantin Dolgov in a commentary that appeared on the Foreign Ministry's website on Thursday.
"Citizens are dissatisfied with the socioeconomic situation and policies of the authorities, but there are numerous cases concerning the disproportionate use of force against peaceful protesters."

The spokesman went on to say that over-the-top police actions violate international agreements on human rights.
"This situation – which has been confirmed with media video reports – justifiably worries human rights activists and causes concern over the provision of democratic rights and freedom of expression and assembly, which is guaranteed by fundamental international agreements," Dolgov continued.
The spokesman stressed that he was speaking about the disproportionate use of force against protesters who had not breached the law or endangered public security.
Dolgov concluded his comments by requesting that third parties "avoid double standards" when criticizing the work of the authorities in other countries who are attempting to maintain law and order.
"We expect those who really care for the observation of human rights norms to be unbiased and avoid double standards in their evaluation of the reaction of the authorities of various countries to the implementation of lawful rights by citizens, without being emotional or politicizing facts," he said.
Dolgov's comments come just days after he remarked that Russian police behave more humanely than their American-European colleagues when placed in similar situations. 

"If we were to witness similar behavior [to actions of Western police officers] in Moscow streets, there would be many more cries than there are now," Dolgov told reporters.
"Peaceful and authorized actions are one thing, while masked people who hurl stones at police is a totally different situation," he said. "Other norms should be observed in this case."