Russian spy joke - Putin's weapon to fight bureaucracy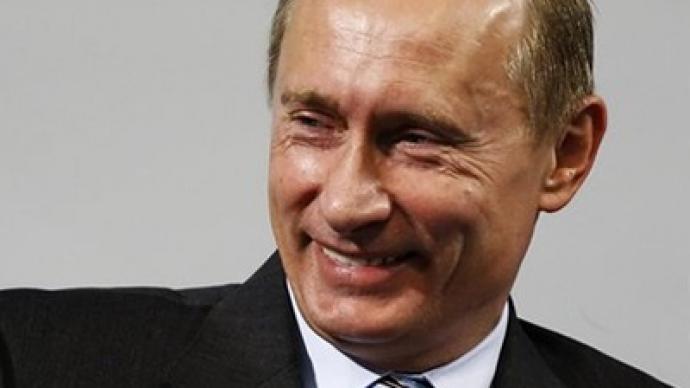 Getting stuck in Russia's maze of Soviet style bureaucracy is more likely to make you cry than laugh. Discussing Russian red tape at a meeting on Thursday, Vladimir Putin turned into a stand-up comedian, using a little spy humor to lighten the mood.
"A spy goes to KGB headquarters and says, 'I want to turn myself in'. They ask him 'What country he was spying for? America? Then you need to go to room 5.' In room 5 they ask him, 'You are an American spy, do you have a gun? If you do, you need to go to room 7.' In room 7 they ask him, 'Do you have special communication devices? If so, go to room 20.' In room 20 they ask, 'Do you have a mission?' 'I do,' he says. 'Well if you do, go and do it and stop bothering people here."Vladimir Putin said that the problem of corruption and arbitrariness are Russia's "chronicle illnesses" and added that today Russia has an opportunity to stop these tendencies.The session of the State Council was dedicated to the issue of local self-administration and bureaucracy. The Prime Minister said that the government will, in the nearest future, approve a list of the 80 most common state services that would be provided within the "one window" principle.These are such types of services as state registration of real estate, issuing common and foreign passports, registration and collecting tax reports, Putin said. He also said that the new regulation would oblige local authorities to enter agreements with multi-functional centers and provide all reports required with this center. The move is aimed at easing the life of common citizens who often have to collect various papers from state institutions themselves, instead of relying on computer databases connecting all state agencies.Putin said that the system of inter-agency computer communication must be run in prior to April 1, and from July 1 the state bodies will start to make all necessary paperwork themselves, without the participation of the public. He also urged the officials to hasten the development of the law on electronic signatures and eventually make paper and electronic documents equally valid.The prime minister reiterated that by July 1, all municipal administrations must be compliant with the new regulations on services provided to the public. He stressed that these regulations must include all possible developments so that "employees of various agencies cannot get a single loophole for stalling or abuse of office."The PM also noted some improvement in the field of servicing the population. One hundred and seventy multi-functional centers providing state services have opened in 49 of Russia's regions. These centers allow the time needed to get the papers to be cut by half to two-thirds and lines to shorten by 65 to 75 per cent. However, Putin noted that only 15 per cent of Russia's population can now use the modern centers and demanded that they be increased from 170 to 2,500 by the end of 2015.
You can share this story on social media: