United Russia's youth just can't stop partying
Published time: 6 Dec, 2007 13:43
Edited time: 6 Dec, 2007 16:43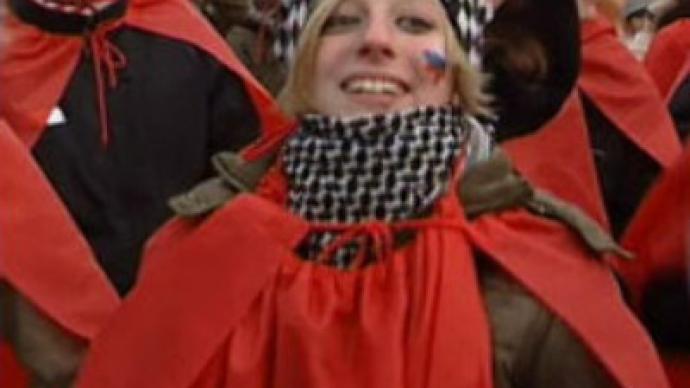 Four days after the parliamentary election, and young supporters of United Russia are still celebrating the party's landslide victory. For the losers, it's a different story. Some parties have protested over how the poll was handled. The official election
On Thursday, the Nashi youth movement (Nashi means 'Ours') held a victory rally in Moscow's Red Square. Nashi are closely linked with United Russia, the Kremlin and President Putin.
Nashi's Commissar Aleksey Filonov says they, "gathered to show the entire world and all Russia that we have great, talented young people who will struggle for our country as their grandmothers and grandfathers did".
"The Bears" wing targets kids

"We will make our country number one in the 21st century," he said.
There are several units within the movement. The "Nashi Army" aims at getting as many youngsters as possible recruited into the country's armed forces.
Nashi member Maksim Milovashikhin said they were active nationwide.
"There are groups like this across the entire country," he said.
Part of the movement specialises in training people for security at public events. Many of those who take part hope to start their own security businesses later in life. At Thursday's gala they displayed their skills to the public.
The "Mishki", or "Bears", wing of Nashi targets young kids. The group's leader says 'no age is too young to become a patriot'.
Organisers say about 30,000 youngsters from across the country turned up to the Red Square rally.
Supporters of 'Nashi' believe the policies of President Putin offer the best chance of giving them and Russia a secure future.