'United Russia's power monopoly declining' - ex-speaker of Upper House
Published time: 30 Dec, 2011 10:09
Edited time: 30 Dec, 2011 14:09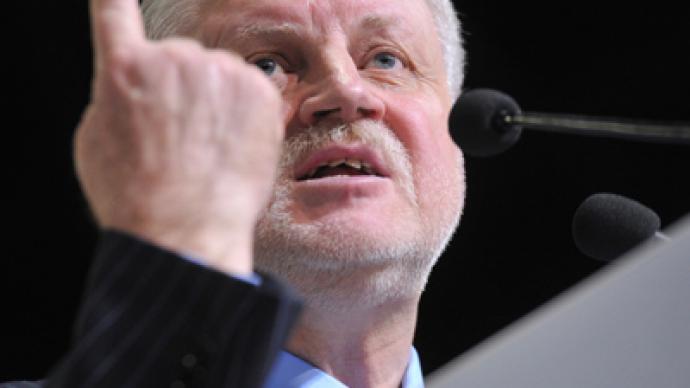 Mass rallies on Bolotnaya Square and Sakharov Prospect in Moscow are an important outcome of 2011, which shows that people have realized that the country's political system needs to be changed, says Fair Russia leader Sergey Mironov.
­"These events have also proved that changes in Russian society are irreversible," said Mironov, former speaker of Russia's upper house, on Friday.
The current leader of the left-center Fair Russia party is also convinced that the results of the State Duma election are indicative of the decline of United Russia's power monopoly now happening.
"People no longer believe the ruling party, and disbelief in the power behind the party is growing," Mironov observed as quoted by Interfax. "And here we are faced with a question: do the authorities realize the necessity of changes?"
They do, in his opinion, judging by what the president and prime minister have been saying for the past few weeks. Sergey Mironov added that his party has long been insisting on measures aimed at the liberalization of the political system recently put forward by President Dmitry Medevdev. At the same time, it is only the beginning, the politician concluded.
For 10 years, before being dismissed in May this year, Mironov was chairman of Russia's upper house and actually ranked third after the president and prime-minister in the country's top hierarchy. As a result of the December 4 elections, his party made it to the State Duma with 13.2 per cent of votes, gaining 64 seats in the new parliament.
Prime Minister Vladimir Putin, during his annual Q & A session on December 15, said that if mass political rallies and politically active youth were a result of his "regime", he could only be satisfied with this. A week later, Vladislav Surkov, who was still first deputy head of presidential administration at the time, expressed a similar opinion. He said that "the system had already changed" and that the "tectonic structures of society had been set into motion."