Fair Russia forwards Mironov as presidential candidate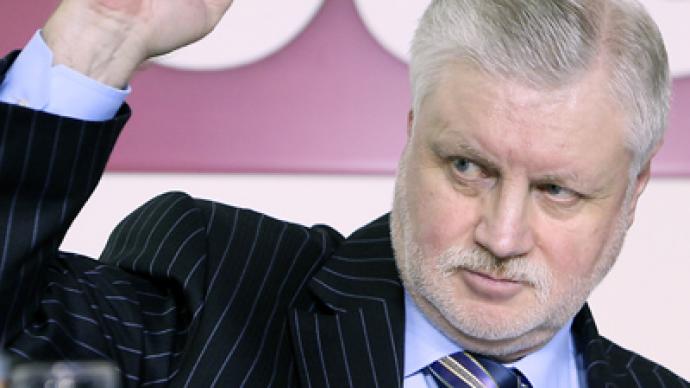 The leftist party Fair Russia has announced that its leader and former Upper House speaker Sergey Mironov will run for president in elections next March.
Saturday's Fair Russia congress voted in favor of Mironov's candidacy by 223 votes to 5. Mironov's nomination brings to six the number of applications from initiative groups for the March 4 presidential poll, including that of Prime Minister Vladimir Putin, who will compete for a third presidential term with the backing of the United Russia party.Fair Russia chairman Nikolai Levichev told the congress on Saturday that the party expected to make it through to the second round of elections and then fight for victory. "Our candidate will not be there to participate, he will be there to win," Levichev said. Sergey Mironov is one of Fair Russia's founders and was also the chairman of the Federation Council – the Upper House of the Russian Parliament. Although a prominent Fair Russia member, he was elected to the Upper House by a St. Petersburg legislature dominated by United Russia. As the 2011 parliamentary elections approached, Mironov stepped up his criticism of United Russia, leading the St. Petersburg legislature to recall his mandate and swiftly elect former St. Petersburg governor Valentina Matviyenko to replace him. Mironov said the move would allow him to concentrate on opposition activities, which he promptly did. Fair Russia received 13 per cent of the vote at the December elections and said they would have ended up with more had United Russia not engaged in a raft of violations to shift the poll in their favor. Despite claims that the vote was rigged, United Russia said it would hold onto its newly-won seats in parliament, flatly refusing to give up their mandates as a form of protest. "We didn't fight at the elections with our sweat and blood just to give up our mandates afterwards. We are not going to abandon the State Duma," the Interfax news agency quoted Mironov as saying. He added that the party hoped to take the post of deputy speaker and head all key commissions in the Lower House.On Saturday a huge rally took place in Moscow against what the opposition says were rigged elections. The number of protesters at the rally led by "non-system" (ie not represented in the Duma) opposition figures was, according to various estimates, between 25 and 40 thousand people. The participants approved a resolution demanding the annulment of the elections, the dismissal of the head of the Central Elections Commission and a fresh poll.