United Russia's leadership says Right Cause party not a strong competitor
Published time: 27 Jun, 2011 11:49
Edited time: 27 Jun, 2011 17:58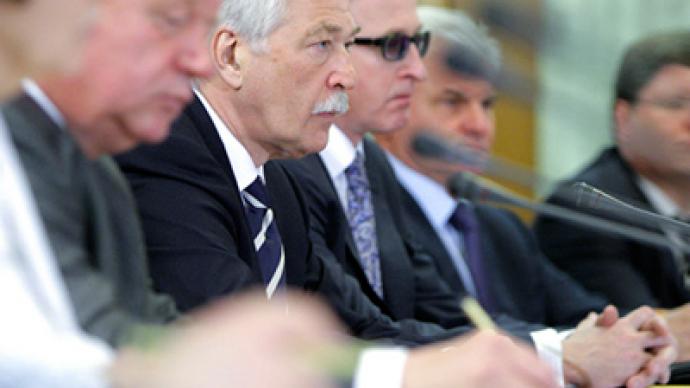 Russian billionaire Mikhail Prokhorov's pro-business party will hardly have more than one or two deputies in the next State Duma, speaker of the lower house Boris Gryzlov has said.
­Gryzlov, who also chairs United Russia's supreme council, believes the pro-business Right Cause party will have little chance to form a faction in the parliament after the December 4 elections. At best, it will have one or two deputies, Gryzlov told journalists on Monday. This is a "prize" awarded to a party that gains more than 5 percent of the vote, but falls short of clearing the 7-percent threshold.

During this year's elections, such a law will be tested for the first time, the speaker said. He added that one or two deputies would provide a niche for such small parties as the liberal Right Cause. Right Cause held its congress over the weekend and elected billionaire and New Jersey Nets owner Mikhail Prokhorov as its leader.

Prokhorov has called for political and economic reforms, saying the country needs at least two ruling parties. Commenting on this statement, Gryzlov said he did not understand the term "the second ruling party." The party holding power is the one "that has a parliamentary majority, and thus, there could only be one such party," he said.

During the congress, Prokhorov urged his party's members to stop calling Right Cause an opposition force and to act as a party having real power. So far, however, this pro-business political organization, which was formed in 2008, is generally not well-known amongst the electorate. It is yet to develop a program meeting the needs of people beyond business circles.

The Right Cause will not join the Popular Front, a movement being formed around United Russia at the initiative of Prime Minister Vladimir Putin, Prokhorov said. Putin is the leader of the ruling party. Even before Gryzlov's statement, Prokhorov said United Russia "has challenged" Right Cause and started to criticize its new program, though it have not even been published yet.

In fact, the liberal pro-business party may become an easy target for United Russia, which positions itself as a centrist party defending the interests of all voters. Also, Prokhorov himself has been an object of criticism in the media and on the internet on multiple occasions. Many were outraged by his idea of increasing the working week to 60 hours. However, Prokhorov explained he just wanted to legalize the right for people to work additional hours of their own volition.

Voters also remember a scandal at the French Alpine resort of Courchevel in January 2007, where he was arrested for allegedly inviting prostitutes to on of his parties. But he was quickly released, and after some time officially cleared of all charges.   

Now Prokhorov has made it clear he will use his own money for the party's election campaign along with that of fellow "oligarchs", and hinted he is even ready to assume the prime minister's duties if the people trust him.