Communists won't let NATO in Lenin's birthplace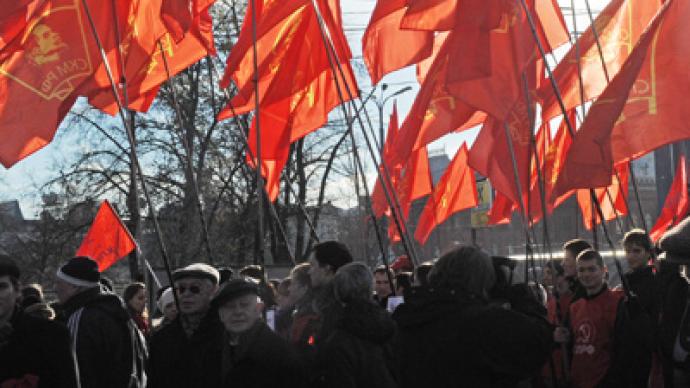 Russia's Communist party (KPRF) is planning to stage a series of protest rallies across the country against possible NATO presence on Russian territory.
The KPRF expects that up to 2 million people throughout the country may take part in the event on April 7.The center of protests will be in Ulyanovsk, a city on the Volga River, where a transit hub for NATO's Afghan-bound cargo may soon be created. Rallies will also be held in all regional centers and large cities."We won't let [NATO] in. We have no right to let them come here – there is absolutely no need for them," KPRF leader Gennady Zyuganov said, as cited by RIA Novosti. He also warned the Russian leadership that such cooperation with the alliance "will turn out badly." Earlier, Zyuganov accused President-elect Vladimir Putin of purchasing the recognition of March 4 vote from the US by "presenting" them the "NATO base in Ulyanovsk." Formerly known as Simbirsk, the city is the birthplace of the Revolutionary leader Vladimir Lenin (originally named Ulyanov).The Communists believe that the presence of foreign military "base" at the very heart of Russia could pose a threat to the country's national security. In addition, the KPRF fears that the new transit hub could open a new channel for drug-trafficking from Afghanistan to Russia.Earlier, it was reported that Moscow and Brussels were finalizing negotiations over the deal that would allow NATO to use Ulyanovsk air base for deliveries of non-military cargo to and from Afghanistan. The news stirred up a wave of criticism in Russia. However, both Russian and NATO officials assured that there will be no "bases" on the Russian soil and that the deal is only about allowing "non-lethal cargo" transit.
You can share this story on social media: