Putin purchased US recognition of victory – Communists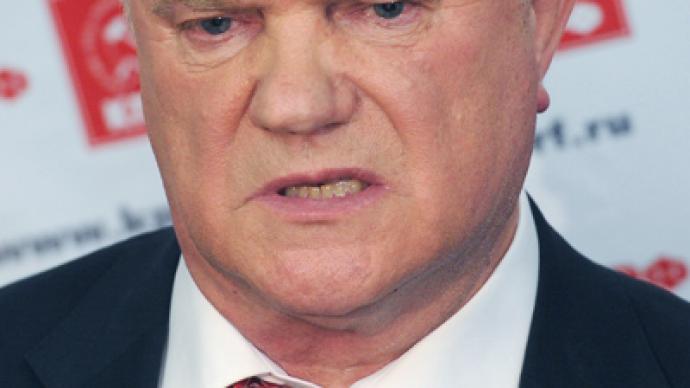 Washington recognized the legitimacy of Russia's presidential poll in exchange for the creation of a transit hub for NATO's Afghan cargo in the city of Ulyanovsk, Communist leader Gennady Zyuganov states.
"A NATO base in Ulyanovsk is Putin's gift to the US for the recognition of the elections. Is that what [US Secretary of State Hillary] Clinton congratulated the [Russian] premier on?" Zyuganov, who came second the presidential vote, wrote in his Twitter microblog. The Communist leader's criticism referred to remarks Hillary Clinton made earlier this month. She said the US was prepared to work with Vladimir Putin as the "clear winner" of the March 4 poll. Zyuganov's party (KPRF) also issued a statement where they slam the plan to allow NATO to use Ulyanovsk Air Base for the transit of non-lethal cargos from Afghanistan to Europe. The second-largest political force in Russia accused the ruling power of acting in the interests of the West.The Communists believe that the presence of foreign military contingent at the very heart of Russia (and the birthplace of revolutionary leader Vladimir Lenin) could pose a threat to the country's national security. In addition, the party fears that the new transit hub could open a new channel for drug-trafficking from Afghanistan to Russia, and, also open a gate for illegal import of weapons.The deal between Moscow and the alliance has not been finalized yet, but the negotiations have reached their final stage, a source in the Russian Foreign Ministry told Kommersant daily. "In near future Putin should approve the government's order on the issue," the diplomat said.Russian authorities say the planned agreement with NATO has its benefits for the country. "We are helping the coalition… primarily out of our own national interest," Foreign Minister Sergey Lavrov said last week. The transportation of non-military cargo transit to and from Afghanistan "is regarded by us as a means of helping those who are eradicating the terrorist and drug threat in Afghanistan." Russian Deputy Prime Minister Dmitry Rogozin dismissed last week concerns voiced by internet users over the creation what the so-called NATO "base." "I'm telling you for the umpteenth time that there is no NATO base in Ulyanovsk and there won't be," he commented to users on his Twitter feed. "Let me explain: we are talking about a so-called multimodal transit of non-lethal cargos." That means, he went on, "mineral water, napkins, tents" and other non-military cargo will be reloaded from trains on to planes and then sent to Afghanistan. Since the transit is commercial, the Russian budget would receive money for it. "I don't think that the transit of NATO toilet paper can be regarded the betrayal of the Fatherland," Rogozin concluded.
You can share this story on social media: