Can Ukraine learn from the turmoil of the past?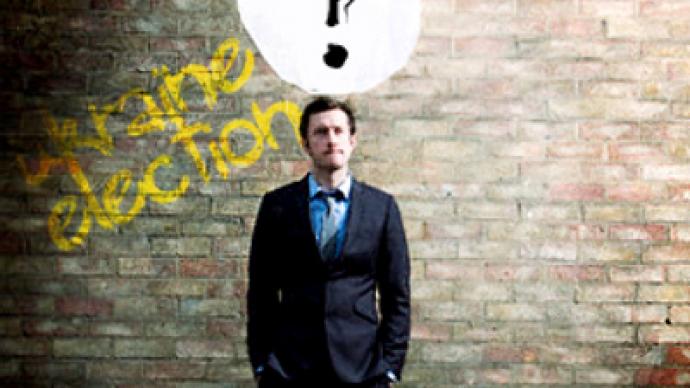 Official results are yet to be announced, but Viktor Yanukovich and his supporters are already celebrating victory in the tense Ukrainian presidential runoff.
However, his rival Yulia Timoshenko is not going to surrender without a fight. She said she would never recognize Yanukovich's victory and is ready to challenge the result in court.
Speaking at the Timoshenko Bloc meeting, she also hinted at a possibility of a third round of the vote, Ukrainskaya Pravda wrote.

It has been a tough battle from the very beginning. Yanukovich, the leader of the Party of Regions, has had a bone to pick with current Premier Yulia Timoshenko since the Orange Revolution in 2004. Back then, Ukraine's "Iron Lady" campaigned for her then-ally Viktor Yushchenko (the current Ukrainian president), who came to power after Ukrainians took to the streets refusing to accept the election results and claiming they were rigged in favour of former Premier Yanukovich.
Five years on, the bitter contenders have clashed in the presidential race. This time round it seems the opposition leader has had his sweet revenge. The 59-year-old beat Timoshenko by 10% in the first round of the election and felt very confident coming into the runoff.
He declared his victory shortly after polling stations were closed and first exit polls announced he was ahead of Timoshenko by about 5 %. With the official vote count the gap narrowed to over 3%.
With unconcealed amusement on his smiling face, Yanukovich addressed his supporters at his campaign headquarters.
"It was not an easy path to this victory. We proposed changes that are extremely necessary for the country, and the citizens of Ukraine supported us," he said, as quoted on his official website.
The presidential candidate has also pledged to do everything possible "so that the economy of Ukraine shows results in growth in the nearest future and… on this basis I will improve the well-being of our people, especially, those who find it difficult to fight poverty."
Yanukovich also said that "a new page has opened" in Ukraine's history and promised to take into account the hopes of those who voted for other candidates.
"I think at these elections we made the first step toward the country's unification, which is very important," he said.
Uniting a country that is deeply split between a pro-European West and a Russian-speaking East will indeed be a tricky task. The majority of Yanukovich supporters come from Eastern and Southern Ukraine and Crimea, while the Central and Western parts, including Kiev, have voted for Timoshenko.
In 2004, Yanukovich was seen as a clearly pro-Russian politician, but has changed his tactics since then to get rid of the image of a "Kremlin puppet" as he was called in Western media. In his 2010 campaign, the opposition leader pledged to both strengthen ties with Moscow and develop relations with the EU. The new Yanukovich also promised to push the country out of its deep recession and create more favorable export conditions.
Moscow has so far avoided taking parts on the vote. Russia's newly appointed Ambassador to Ukraine Mikhail Zurabov said that no matter who wins, the relations between the two states will change, Interfax reports.
He has said that both Yanukovich and Timoshenko are "pragmatic" and understand "what advantages Russian-Ukrainian cooperation and normal relations between Russia and Ukraine bring."
"I'm definitely sure that each of them will be building his or her own policy with due regard for that factor," he said on Sunday.
Russian Communists' leader Gennady Zyuganov is confident Yanukovich is the winner and praised the Ukrainians' "right choice".
"I have always supported Yanukovich," he told Interfax agency. "I am sure… that Russian-Ukrainian relations will improve during his presidency. However, as preliminary results show, Ukraine is split in two parts which indicates that Yanukovich will face exceptionally difficult tasks."
The Russian population in general would like the currently "negative" relations with Ukraine to be improved, according to All-Russian Public Opinion Research Centre (VTsIOM) findings, Itar-Tass writes.
President Mikhail Saakashvili – who named outgoing Ukrainian President Viktor Yushchenko godfather of one of his sons – said "Ukrainian democracy has won." That is despite the earlier controversy over Georgian observers.
"Many European countries may envy the way how elections in Ukraine were held," Civil.ge quotes him as saying while speaking in Shuster Live talk show on Ukraina TV late on February 7.
He also reiterated that Tbilisi and Ukraine would remain strategic partners no matter who becomes the new president in Ukraine. "Ukraine is our strategic partner, our interests fully coincide," he said.
Meanwhile, the atmosphere in the Timoshenko Bloc camp is not that festive. The Prime Minister, however, remained quiet and twice put off a media conference on Monday. Earlier she vowed to take her supporters to the streets in case of vote fraud.
So far, no serious incidents have been reported and it seems that, despite some observers' pessimistic predictions, this time it might be possible to avoid mass rallies and protests.
In fact it was Yanukovich supporters who gathered on Monday morning near the commission's building in the capital Kiev. The crowd of several thousand people were waving placards with slogans like "Let's protect the choice of Ukrainian people, Yanukovich is our president."
Observers have called the vote democratic and said no major violations were spotted.
It is early to predict how events will develop further, since a lot will depend on how the next president sets the tone in power. The ability to put interests of the state above both personal and party ones will be crucial.
By casting their ballots for Timoshenko or Yanukovich voters were hoping for changes which were promised by both candidates. But will either of them really manage to build a new, stable Ukraine, especially since neither the premier nor the opposition leader are "new" faces in Ukrainian politics? Or will it simply be a reshuffle of power?
"[Yanukovich] will have to become a full-fledged president of Ukraine, something his predecessor Yushchenko failed to do… He is in a complicated situation since the West does not accept him," German political analyst Alexander Rar told Interfax.
Rar said it would be ideal if Timoshenko became Prime Minister again, though only if she deals purely with economic issues, instead of trying to grab presidential powers.
Russian analyst Gleb Pavlovsky agrees that a compromise between Timoshenko and Yanukovich would become crucial, since almost half of the country's voters are against the latter. Those who voted for Timoshenko, he told the agency, cast their ballots not for her, but against Yanukovich.
Read also: Decapitated Ukraine grows new head
You can share this story on social media: