Russian oil and gas swap for Ukraine's Crimea Peninsula?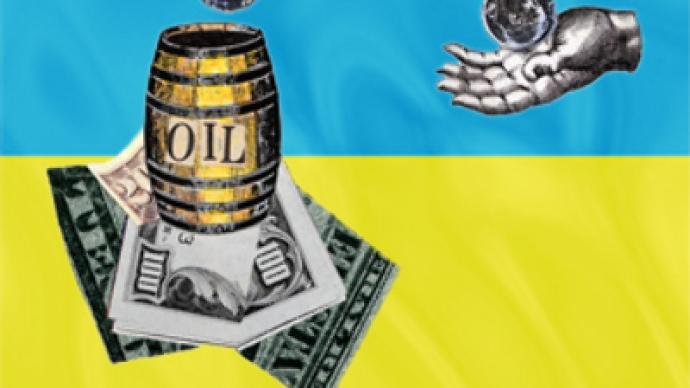 According to Ukrainian sources, Russian officials are in informal discussions with their Ukrainian counterparts over the possibility of swapping Russian oil and gas for Russia's long-term lease of the Crimean Peninsula.
The Crimea Peninsula extends into the Black Sea and has a rich history, which is apparent by its Greek ruins, specifically at Chersonese. Russia's Black Sea Fleet is stationed at the Crimean city of Sevastopol, while around 52 percent of Crimea's population is Russian. After defeating the Tartars in the end of the eighteenth century, the peninsula became part of Russian territory. In 1954, Khrushchev, some say acting beyond his powers, gave the Crimea to Ukraine.
Ukraine's economic growth is expected to plunge 10 percent this year as the global economic crisis continues to bite, and this is making it exceedingly difficult for the capital of Kiev to pay its gas bill. In a tedious replay of events exactly three years earlier, Gazprom, the Russian state-controlled gas company cut off supplies to Ukraine on January 1 over unpaid debts. But since Ukraine serves as a major supply corridor for Russia's nervous European customers, the incident once again infuriated Brussels and beyond.
Ukrainian Prime Minister Yulia Timoshchenko met her counterpart Vladimir Putin in Moscow where they signed a new gas agreement on January 19th. The deal allowed for gas supplies to continue, yet it did not save the famous-mane princess of the Orange Revolution from facing the wrath of her political opponents back home.
Under the new contract, Ukraine pays Russia $450 per 35,314 cubic feet of gas.
"This is obviously unfair. I'm sure that those who signed this agreement and accepted these terms will have to answer for their actions," the Ukrainian president was quoted as saying, adding that $450 was "an exorbitant price."
Some Ukrainian officials and media have publicly asked why Yushchenko was not informed about the terms of the contract before ink was put to paper.
At the beginning of March, masked Ukrainian Security Service agents, who serve under President Viktor Yushchenko, raided the headquarters of the country's gas and oil company Naftogaz, reportedly seizing documents relating to the January deal.
Putin, speaking at a news conference in Moscow on Wednesday, criticized the actions, saying that "all it is doing is discrediting [Ukraine] and prompting thoughts about alternative routes of delivery for our hydrocarbons."
Russia has in the past floated the idea of using its planned South Stream gas pipeline as one viable route to bypass cash-strapped Ukraine.
Kiev's Mounting Debt
On top of a $16.43 billion loan from the International Monetary Fund (IMF), Ukraine's acting finance minister confirmed that the debt-burdened country has asked Russia for a $5 billion loan to pay for natural gas deliveries.
"This loan will be used to buy gas," Ihor Umanskiy said on Wednesday.
The IMF has already provided Ukraine $4.5 billion, but has refused to release the second tranche of around $2 billion until Kiev proves that it is capable of turning around its ailing economy.
"Ukraine is in dire economic straits," said a high-profile Ukrainian businessman, who formerly served as a deputy minister in the Verkhovna Rada, the Ukrainian parliament, and who agreed to speak on condition of anonymity. "And there are some members of the opposition who think that Ukraine will have to make some uncomfortable decisions, and this may involve future swap deals with its Russian neighbor."
The businessman then alluded to informal talks between "politically active individuals" that would grant Russia long-term use Ukraine's Crimea Peninsula, which includes Russia's Black Sea Fleet, in return for an undisclosed annual amount of Russian gas and oil supplies to Ukraine.
"I was not present at the alleged talks," the source said via telephone, "but I was informed that the talks focused on the idea of swapping Russian oil and gas supplies in return for Ukraine granting Russia a 99-year lease of the Crimea Peninsula."
"This sounds like a bad joke," commented Dmitry Babich, Acting Editor-in-Chief of Russia Profile, an on-line political website. "There is absolutely nothing in Ukraine's constitution that would permit such a trade-off."
Babich then mentioned similar stories that filled the air when Russia and Japan were holding talks over the disputed Kuril Islands [Four small islands that were occupied by Soviet forces at the end of World War II].
"There were rumors that Russia would give Japan the islands, and Japan would pay money to Ukraine, which in turn would use the funds to purchase Russian oil and gas," Babich said
Equally distrustful of the claims is Fyodor Lyukanov, Editor-in-Chief of Russia in Global Affairs.
"Such deals are impossible in principle," Lyukanov said. "To exchange territorial integrity for oil and gas – if we imagine this could happen – is an unequal exchange. Ukraine would receive resources that would eventually disappear, while Russia would get land. Impossible."
Yet there are signs that Moscow is losing its patience with Ukraine, which threatens to disrupt Russia's longstanding resource partnership with its European clients.
"Clearly, If Kiev cannot find ways to guarantee the viability of its contracts, then alternative forms of doing business will have to be found," the former deputy minister said.
"I personally do not see why such a swap could not work," he said. "Russia would get its naval rights, while Ukraine would get the oil and gas supplies it so desperately needs. A win-win situation."
You can share this story on social media: