Tymoshenko may face murder, assault charges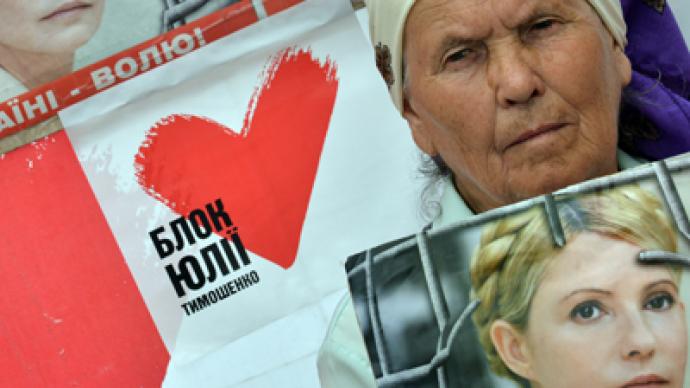 Ukrainian prosecutors are preparing to bring new charges against ex-PM Yulia Tymoshenko, who is serving a jail term for abuse of office. She may also be accused of assaulting a prison guard and being an accessory to a lawmaker's murder.
The Prosecutor General's Office is planning to indict Tymoshenko on charges of complicity in the assault of the Verkhovna Rada MP and businessman Yevgeny Shcherban, First Deputy Chief Prosecutor Renat Kuzmin told Ukrainian Segodnya (Today) daily. Shcherban, who headed financial corporation Anton, was shot dead at Donetsk Airport in November 1996. His wife and an airport employee were also killed in the attack. Back in April, Shcherban's son Ruslan said that he had submitted documents to investigators about the alleged involvement of Tymoshenko in the murder of his parents."We have enough grounds to bring charges against her," Kuzmin said.  The former premier – who is undergoing treatment in a hospital in Kharkiv – may be indicted in September. "As the German doctors [who treat Tymoshenko] said, she needs eight weeks to rest from stress. We are waiting for this period to finish. When the doctors say that she can be discharged, we'll immediately come to her with charges. We've got everything ready for that," the first deputy chief prosecutor told the paper. Kuzmin noted that the case against the perpetrators of the murder was investigated and the court has already passed a sentence. The case against those who ordered the assassination was investigated separately. The Prosecutor General's Office established people allegedly linked to the organization and financing of the contract hit and Yulia Tymoshenko is among them.   According to prosecutors, the conspiracy also involves another former prime minister, Pavel Lazarenko, who is serving a jail term in the US for money laundering. Kuzmin said that Lazarenko is ready to testify in the Shcherban murder case. Ukrainian prosecutors will fly to the US to question him as soon as they obtain permission from American authorities.  "Charging two former prime ministers with organizing a murder of their business competitor is a huge responsibility," Kuzmin stressed. If the court finds them guilty, it will damage Ukraine's image, he observed. "On the other hand, an ability to bring criminals to justice – no matter how senior their post is – may only contribute to the state's weight."  Meanwhile, prosecutors are filing yet another criminal case against Tymoshenko over her "causing bodily injuries to a detention facility officer in line of duty."Back in December last year, Kuzmin said that in 2003 Tymoshenko, accompanied by several MPs, had broken into the Kiev pretrial detention center. "She [Tymoshenko] obstructed the institution's normal work, threatened the facility workers, and personally caused bodily injuries to one of them, an officer," he said, recalls Interfax.Tymoshenko's lawyer Sergey Vlasenko called the new case "idiocy" cooked up by Kuzmin, "The level of lies is going over the limit. Tomorrow she will probably be accused of beating up all of her guards in the [Kachanovskaya penal] colony," Vlasenko said, as cited by Kyiv Post news website.In his interview with Segodnya, Kuzmin noted that there are more cases currently being investigated. "Each of them will be completed within the time set by the law and forwarded to court," he underlined.