Kremlin to cure governors from Twitter-mania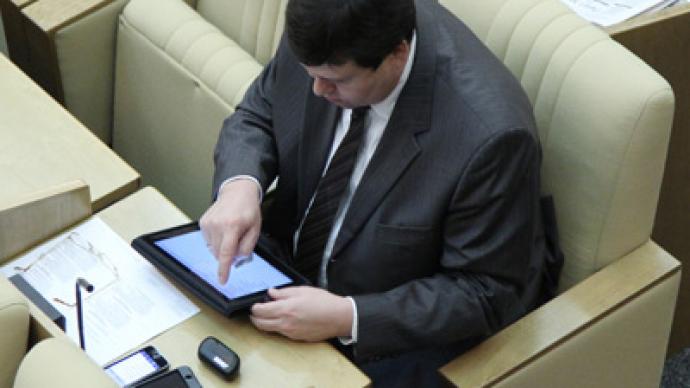 The Russian Presidential administration plans to limit regional governors' activity in popular micro-blog Twitter in order to avoid embarrassments like that over a worm in a plate at dinner in the Kremlin.
Governors will soon be recommended to post only proper messages. Otherwise, the Kremlin might ban state officials from using the networking service at all, writes Izvestia daily."Let them show results of their work by their deeds rather than on the internet," a source at the administration told the paper. The decision comes after a number of scandals erupted following governors' hasty posts in the micro blogging service. In 2010, Kirov Region Governor Nikita Belykh was caught out tweeting in the middle of an important meeting."Mr. Belykh is posting something on his Twitter page right now, during the State Council session, as if he has nothing else to do," the then President Dmitry Medvedev noted. That incident was followed by another scandal as the Governor of Tver Region Dmitry Zelenin posted a photo of an earthworm on his plate at a Kremlin dinner. The picture was accompanied with a comment that read: "Even in the Alexander Hall, with your veal you get served salad with live worms." The scandal became a real hit in the media and the internet community and outraged officials. Presidential aide Sergey Prokhodko suggested firing Zelenin for "weak-mindedness." The governor resigned in 2011. Meanwhile, "The Kremlin worm" has continued its life on the internet and has its personal Twitter account followed by almost 10,000 users.Twitter-mania swept Russian politicians during Medvedev's presidency.Known for being tech-savvy, he was the first country's leader to have accounts on popular social networking services and to start his own video blog. The then-President urged officials to follow his example and communicate with the people via the internet.Currently, 33 heads of Russian regions have Twitter accounts. However, many approve of the Kremlin's new initiative regarding the micro blogging service. "You know the culture of our communication in electronic media, social networking services and in general slightly lacks respect to each other," Kaluga Region Governor Anatoly Artamonov told Izvesita. He added that he stopped using Twitter a while ago.