Ethnic groups oppose Moldova-Transdniester unification, beg Putin for support
Published time: 20 Aug, 2012 14:08
Edited time: 21 Aug, 2012 08:38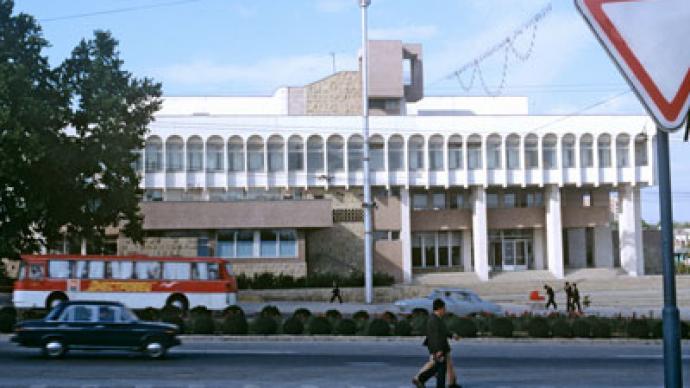 Three ethnic groups representing the three major nationalities of the breakaway republic of Transdniester have issued a plea to Russian President Vladimir Putin to oppose the region's possible merger with Moldova.
The Union of Russian Communities, the Union of Moldavians and the Union of Ukrainians wrote a joint letter claiming that the absolute majority of the people of Transdniester are pleased with Putin's remarks that the fate of the republic must be decided by its people. The people of the region had long ago chosen in favor of close historic and spiritual ties with Russia, the letter read.
In a 2006 referendum, 97 per cent of the republic's population supported integration with the Russian Federation, the letter said, adding that an estimated 170,000 citizens of Transdniestrian residents have applied for and received Russian citizenship, even though they were not only ethnic Russians but also ethnic Ukrainians and Moldavians.
"If not for the artificial barriers, the number of Russian citizens in Transdniester would be significantly larger," the letter states.
Representatives of the ethnic unions went on to argue that the region is under considerable pressure from the United States and the European Union: "They use all means, including forcing Russia out of Transdniester, to squeeze us into the pro-Western and pro-Romanian Republic of Moldova. In such state we, the people Transdniester, will only face inevitable ethnic, spiritual, cultural, language and political terror and genocide."
The authors also complained that some Russian officials had previously supported the move for unification with Moldova.
The Republic of Transdniester came into existence in 1990, following a war of secession with Moldova, and has been holding talks on its legal status since the 1992 ceasefire. Negotiations are currently being held in the '5+2' format, with the participation of Transdniester, Moldova, Russia, Ukraine, OSCE, the US and the EU. The process is complicated, and has stalled several times over political tensions between Transdniester and Moldova.