Terrorists charged: Attack on Moscow railroad foiled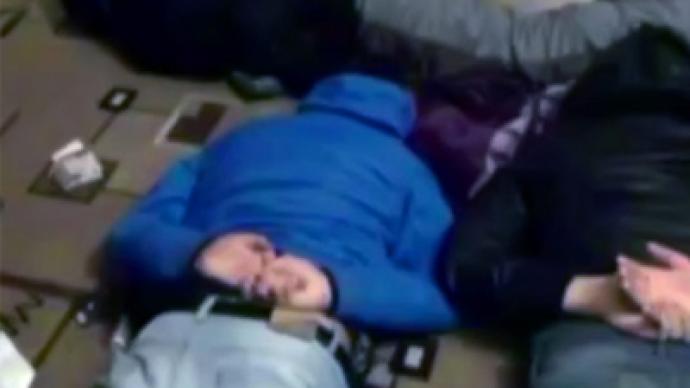 Nine nationals of Russia and Tajikistan have officially been charged with organization of activities for the banned terrorist organization Hizb ut-Tahrir, or Islamic Party of Liberation, says the Russia's Internal Ministry.
The terrorist group activists are also accused of illegal possession of explosives, explosive devices and ammunition.Five of the suspects are leaders of the Russian and Moscow branches of the organization, which was labeled terrorist by the Supreme Court in 2003 and prohibited throughout the country. Earlier this week, 18 activists of the group were arrested for allegedly recruiting volunteers in Moscow's mosques and distributing extremist literature. During a search in the suspects' apartments, police found guns, 10 grenades, and guides to recruiting people and promoting radical Islam. In addition, the law enforcers seized what was believed to be incomplete counterfeit notes for $1 million and 2 million euro.Russian law enforcers found traces of Hizb ut-Tahrir in Russia back in early 2010, the Internal Ministry's press service told Interfax. It was discovered that the group's members were recruiting youths from Russia's North Caucasus region and Central Asia. The activists were also issuing printing materials urging an overflow of the constitutional power in Russia and the creation of Islamic state caliphate in the country's European part.Investigators discovered that that the organization was also preparing a terrorist attack on a Moscow railroad. Terrorists planned to blow up a passenger train on November 4, 2010 – when Russia celebrates the Unity Day.The attack, thwarted by the law enforcers, was meant to become an intimidation action, the ministry's press service pointed out.Five organizers of the plotted terrorist act were arrested and sentenced by court to jail term. Russia's Council of Muftis has praised the law enforcers' efforts in providing security in the country. Muslim organizations, clerics and employees of mosques in Moscow are doing their best "to prevent any illegal actions, particularly those aimed at undermining stability and safety," the council said in a statement on Friday, as cited by Itar-Tass.