Taliban attack triggers Afghan security overview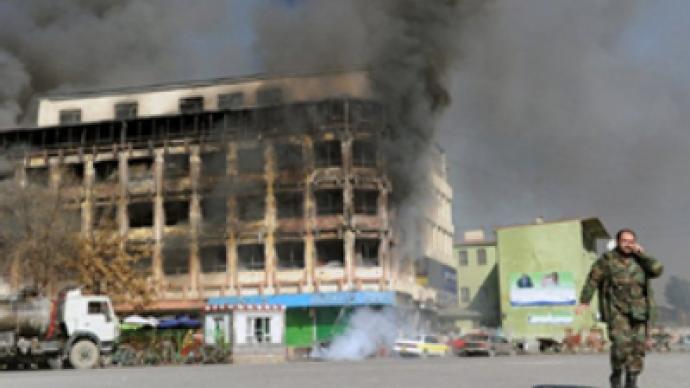 Following Monday's brazen assault in the center of Kabul, the president of Afghanistan has ordered a comprehensive review of the security situation inside the beleaguered country.
The Taliban's daytime assault on the capital, which left 12 people dead, including 7 militants, sent a message the government could no longer ignore: the militants are becoming increasingly capable of striking out at the sacred "soft targets," which, besides inflicting the obvious physical damage, wreaks psychological terror in the public imagination as well.
The five-hour gun battle (for RT video report of the attack, click here), the deadliest Taliban-sponsored operation in Kabul in nearly a year, unfolded near the presidential palace and government offices; it was no coincidence that the militants chose to attack as Cabinet members were just being sworn into office.
Afghan President Hamid Karzai has made luring members of the Taliban away from the radical organization with the promise of receiving formal political representation in the new government the centerpiece of his national rejuvenation program.
On Tuesday, Karzai, after praising Afghan troops and NATO members for averting an even larger catastrophe, ordered a reassessment of Kabul's security strategy.
Meanwhile, at least one high-ranking US military official has gone on record as saying
the Afghan government will have little chance of reaching a political compromise with Taliban fighters.
US Defense Secretary Robert Gates says he doubts Afghan Taliban leader Mullah Omar will ever make peace with the elected Afghan government.
Gates, who spoke with reporters traveling with him to India, said Monday that a process of "reconciliation and reintegration" of Taliban fighters into Afghanistan's political structure is essential to success in Afghanistan, according to an AP report.
Gates added that he doesn't think chances are high that senior leaders of the Sunni Islamist political movement will surrender until they see the tide turning.
But recent setbacks for Coaltion forces, which US President Barack Obama has promised to add another 35,000 US troops, have certainly emboldened the organization.
In late December, the US Central Intelligence Agency (CIA) suffered its worst attack since the US embassy in Beirut was bombed in 1983.
Humam Khalil Abu-Mulal al-Balawi, a 36-year-old al-Qaeda sympathiser from Zarqa, Jordan, was able to convince US intelligence officials in Afghanistan that he had switched allegiances against Al-Qaeda and had important information to offer.
US and Jordanian officials arranged a meeting for al-Balawi at the Forward Operating Base Chapman, a US intelligence-gathering facility near the border with Pakistan. Once on the premises, he detonated his explosive belt, killing seven CIA employees and his handler, whom Jordanian media have named as Ali bin Zeid.
A Taliban spokesman quoted on al-Jazeera's website said Humam al-Balawi worked as a double agent who had fed Jordanian and US intelligence services false information for a year.
You can share this story on social media: