Tajikistan upset by Russian politician's talk show statements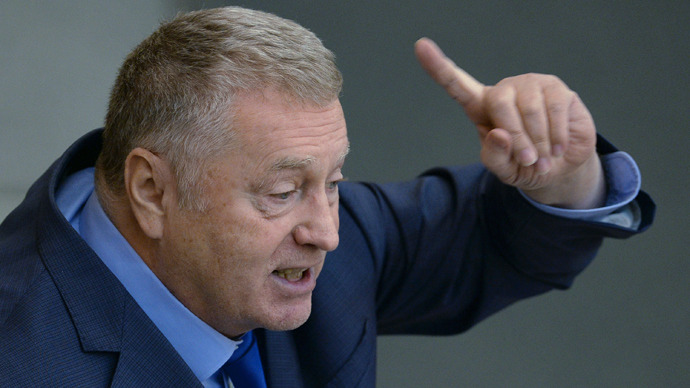 The parliament of Tajikistan has issued a protest after a flamboyant Russian MP promised that the Taliban would "trample their country and hang their president" if Russia closes its borders to Tajik migrant workers.
Tajikistan MPs admonished their Russian colleagues saying that "recently some tendentious and discrediting statements aimed against Tajikistan have appeared in the Russian media and this does not match the friendly relations between the two countries".
The rebuke singled out the words of the leader of Russia's Liberal Democratic Party and lower house MP Vladimir Zhirinovsky. He is well known attention getting and scandal mongering. Zhirinovsky took part in a talk show on the Russia-1 television channel and claimed Tajikistan was demanding excessive rent for a Russian military base and that Islamists from Afghanistan would trample the country and hang Tajikistan's President Emomali Rakhmon if Russia decides to refuse entry to thousands of Tajik labor migrants.
The Tajik Foreign Minister handed an official note of protest to the Russian ambassador in Dushanbe Yuri Popov. In the note the ministry expressed concern about the statements by some Russian officials they took as being unfriendly and damaging to bilateral relations.
The Liberal Democratic  party commented on the protest saying that Zhirinovsky's words should not be taken as an official political statement.
"This was not a position of some official agency that represents the state power as such,  this was an opinion voiced by the leader of an opposition party during a political talk show," said Vladimir Ovsyannikov, deputy head of the Liberal Democratic caucus in the State Duma.
The MP added that Zhirinovsky never discriminated against any nation in his speeches. Even after he suggested prison, exile or the death penalty for some Russian officials, these officials continued to communicate and work with him, Ovsyannikov noted.
You can share this story on social media: