Former Soviet republics hope to contain NATO
Published time: 12 Aug, 2011 09:02
Edited time: 12 Aug, 2011 19:04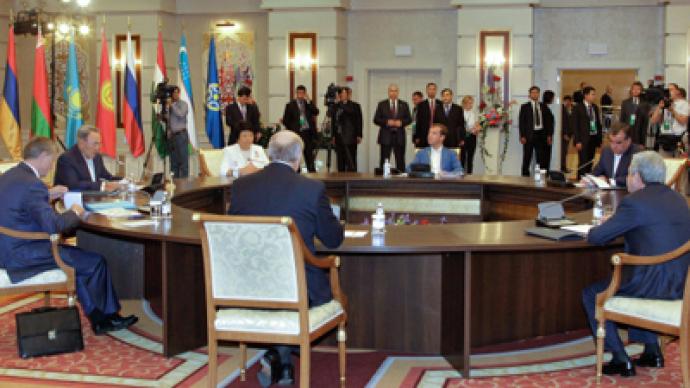 The heads of states within the Collective Security Treaty Organization intend to strengthen its role, its current chairman, Belarusian President Aleksandr Lukashenko, said after an informal summit in the Kazakh capital Astana.
­Made up of seven former Soviet republics, Russia, Armenia, Belarus, Kazakhstan, Kyrgyzstan, Tajikistan and Uzbekistan, the organization, which is sometimes referred to as the "NATO of the East," is aimed at countering external military threats and the defense of the territorial integrity of its member-states.

Six leaders have gathered for the summit: Russian President Dmitry Medvedev, Kazakh President Nursultan Nazarbaev, and Belarusian President Aleksandr Lukashenko, whose country currently holds the rotating CSTO presidency, Armenian President Serge Sargsyan, Tajik President Emomali Rakhmon, and Kyrgyz President Roza Otumbaeva. The Uzbek leader Islam Karimov did not attend the summit.

"Critically assessing our work, we have noted that there are several internal drawbacks," the Belarusian leader told journalists during a media briefing on Friday. "I mean not only the domestic problems of the CSTO member states but also divisive issues between the countries." 
As for positive developments, Lukashenko said that by the end of the year they may complete the formation of the Collective Rapid Reaction Force.
He added that by December the member states will ratify a package of recently signed international documents within the organization.

"We [Belarus] have ratified all these documents. The other countries are now in the process of ratifying them," Lukashenko went on to say.

Another important outcome of the summit was the agreement to jointly counter potential threats in cyber space.
"Many new goals have appeared in light of recent world events, including those in the Arab states and in North Africa," the Belarusian leader pointed out. "We have agreed that our countries will work out measures to fight potential threats, primarily in the information sphere and cyber space."
­
­