Leftist legislators suggest bill on reporters' immunity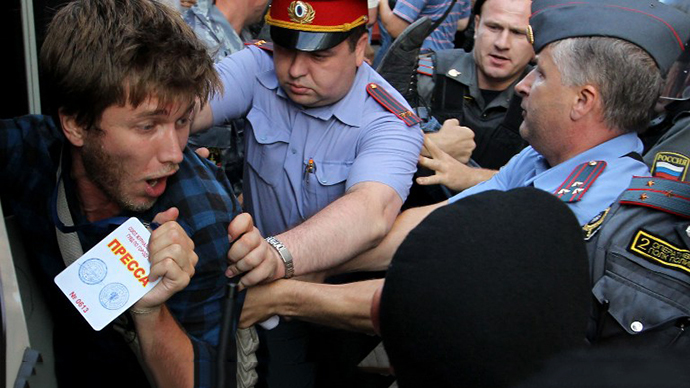 A group of State Duma MPs have prepared amendments providing journalists with immunity from prosecution, claiming that the measure would alleviate pressure on them by politicians and law enforcers.
The main sponsor of the bill, MP Mikhail Serdyuk, has told Izvestia daily that the amendments would introduce the term 'immunity' to the law on mass media and provide reporters with protection that is presently enjoyed by top national leaders, elected politicians, attorneys and members of election commissions.
"The immunity status would help to protect reporters from the uniformed officials who attempt to conduct arbitrariness," the Fair Russia party member told the paper. "It is true that many criminal cases [against reporters] never reach courts, but the scheme works as far as the pressure on journalists is concerned."
The new bill imposes additional prosecutorial supervision over instigation and investigation of criminal cases against journalists. In order to bring a reporter to criminal responsibility the plaintiff or police would need the approval of the city or regional prosecutor.
Earlier, another Fair Russia member, MP Oleg Mikheyev, suggested transferring all criminal cases against reporters under powers of the country's top federal law enforcement agency – the Investigative Committee.
Officials of the parliamentary majority party United Russia oppose the idea. Deputy Duma Speaker Sergey Zheleznyak said that not only there should be no additional categories of citizens enjoying immunity, but the existing rules should be abolished and all people made equal before the law.
Representatives of the journalistic community welcomed the initiative but added that they understood that it offered broad opportunities for abuse of the reporter's status.
Criminal cases against journalists are usually started as reporters attempt to extort money from the main characters of their unfavorable reports. In April this year a court in southern Russia's Krasnodar Region sentenced several activists to prison terms for attempts to extort money from local developers for stopping an environmentalist press campaign against one of their construction projects. Those convicted claim that they were set up and tortured by police. The defense lawyers promised to appeal the sentence.
Another well-known trial is the process against Aksana Panova, a senior executive with the influential news website Ura.ru and a close ally of controversial anti-drug activist Evgeny Roizman. Panova is currently standing trial for embezzling 12 million rubles from her media outlet's accounts and for extorting money from local businessmen with promises to hush up scandals.