Poll: Russian protest rallies out of fashion, but not dead
Published time: 29 May, 2013 13:28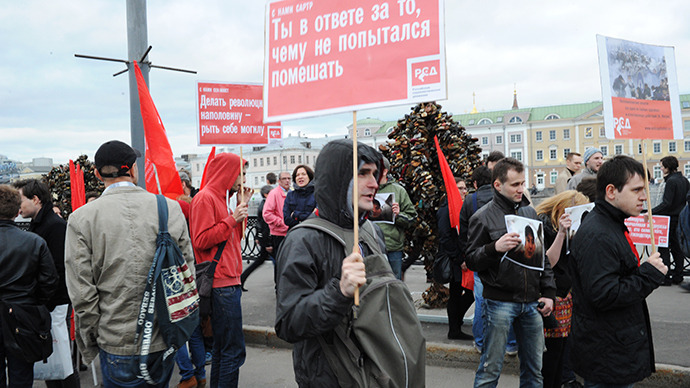 The protest movement in Russia appears to be drifting out of the public eye, a new opinion poll shows. But it isn't losing whatever public support it has.
The poll conducted by Russia's VCIOM service showed that just 44 per cent of Russians are aware of the latest large opposition rally on May 6. This is 8 per cent less than the figure last year at the peak of the protest movement.
Russians say disaffection with the Russian authorities in general and living standards are the main reasons for the protest, nominated by 21 and 10 per cent of respondents respectively. The results of the parliamentary and presidential elections and President Vladimir Putin's policies were mentioned as the reasons by 4 and 2 per cent of the people polled.
While aware of the protest rallies themselves, Russians appear to be oblivious to the demands and slogans the opposition voiced there. A majority, 68 per cent, of Russians failed to recall even one slogan from the latest rally. The most recognized demands of the opposition are those to change the government (6 per cent), replace Putin as the president (5 per cent) and conduct fair elections (4 per cent).
The opposition movement enjoys the steady support of 27 per cent of Russians, according to the poll, which hasn't changed much since the last year. But only 7 per cent of respondents said they are ready to vent off their protest mood rallying in the streets. Roughly an equal number of Russians – 35 and 32 per cent – are either indifferent towards or against the opposition.
Half of the respondents are sure that the opposition activists have no secret motivation for joining the demonstrations, but 29 per cent believe that they are being paid for the action. Twenty-three per cent of the respondents believe the protesters have much time to spare and spend it at the rallies. About 11 per cent suspect that the protesters are being forced to join the demonstrations.
VCIOM polled 1,600 people in 130 Russian cities and towns across 42 regions. The statistical error of the results is no larger than 3.4 per cent. The poll was conducted on May 18-19.
Head of the research center Valery Fedorov believes being in the opposition was trendy in 2009, but now is falling out of vogue, which explains the diminishing awareness of the protest events. "The rallies have turned into routine. The actions are rare and less numerous, they are not on the population's agenda," he told Kommersant daily.