Russian army now hiring - foreigners welcome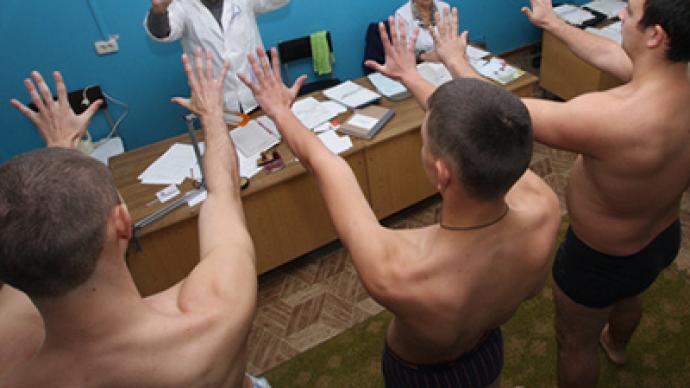 The Russian Army is looking for a few good men (and women), but only if you speak Russian and don't mind having your fingerprints taken. And of course, don't mind a bit of adventure.
Due to various factors, not least of all Russia's demographic situation, the Russian Armed Forces are looking to foreigners to help fill their ranks."Foreign nationals, between the ages of 18 and 30, applying to serve in the Russian Armed Forces, must speak Russian language," says a draft decree on the new rules for Army service, posted on the Russian Defense Ministry's website. All qualified applicants will also be required to have their fingerprints on file with the Ministry of Defense.Unlike Russian citizens, however, who join the military as soldiers, sailors, sergeants or first sergeants after signing a three-year contract, foreign nationals must agree to serve for no less than five years. Foreign enlistees, however, will not be required to have Russian passports or produce a diploma or other certificate confirming their level of education.As far as having to take a military oath, that requirement too has been eased for foreign nationals."They will not take the military oath and will only sign a contract pledging themselves to abide by the Russian Constitution and to unconditionally fulfill their commanders' orders," Interfax-AVN reported, quoting an anonymous Defense Ministry source.Aside from having an opportunity to do a bit of travelling, as well getting into shape, service in the Russian military for foreigners comes with some other perks, including the right to become a full-fledged, passport-carrying Russian citizen."Foreign nationals serving in the Russian Armed Forces will have the right to apply for Russian citizenship after three years of service," the source said.The Russian Army first opened their ranks to foreign nationals in 2004, when the Defense Ministry decided to attract more contract servicemen due to a demographic crisis. The number of foreign contract servicemen, however, has not exceeded 350 since the program started. In 2009, 340 foreign contract servicemen from former Soviet republics served in the Russian Armed Forces. Among them were 103 national from Tajikistan,  69 from Uzbekistan and 42  from Ukraine, Deputy General Staff Chief Vasily Smirnov said.The announcement follows Russia's military reform initiative, which were announced by Defense Minister Anatoly Serdyukov in October 2009. Russia is looking to build a smaller yet more efficient army that is equipped with the most advanced technologies.Meanwhile, Russian President Dmitry Medvedev hinted on Thursday that the Russia will start looking to foreign shores to build new military bases, while underlining the diplomatic decorum required for such a task."You realize that a Russian President's decree is not enough to establish a base in a foreign country," he said."It requires complicated political and diplomatic work for us to be wanted and regarded as an element of improving a foreign country's image and security," he said.Russia presently has 25 military bases abroad: one located in Syria, and the rest in the former Soviet states of Ukraine, Kazakhstan, Armenia, Belarus, Azerbaijan, Kyrgyzstan, Tajikistan, and Moldova.
Robert Bridge, RT