Russia considers more foreign military bases – Medvedev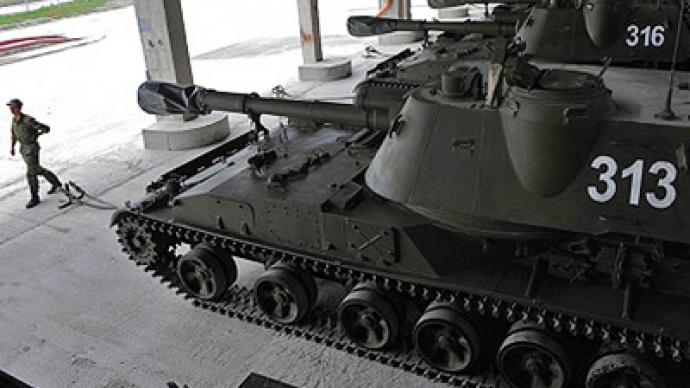 Russia is considering setting up more military bases in other countries, President Medvedev has revealed at a top-rank military meeting.
"I will not conceal this from you: we have some ideas about this. But for reasons you all understand I will not say them out loud," Dmitry Medvedev told army commanders who he met Thursday at Gorohovetsky training ground.The bases, Medvedev said, could provide for the needs of Russia's military ships, which would be more efficient and less expensive than using escort ships. They would also level Russia with its partners who, Medvedev said, have an advantage over Russia because of their bases staged all over the world.
However, Medvedev pointed out, staging bases in foreign countries requires thorough diplomatic preparations."You realize that a Russian President's decree is not enough to establish a base in a foreign country," he said."It requires complicated political and diplomatic work for us to be wanted and regarded as an element of improving a foreign country's image and security," he said.The Soviet Union used to have a wide military presence abroad, with bases in Cuba, Poland, Germany, Finland, Somalia, Vietnam, Ethiopia, Yemen, Egypt, Syria and Libya, but eventually these were shut down. Modern Russia has 25 military bases abroad: one located in Syria, and the rest in the former Soviet states of Ukraine, Kazakhstan, Armenia, Belarus, Azerbaijan, Kyrgyzstan, Tajikistan, and Moldova.Medvedev also restated his adamant decision to complete the reform of the Russian Army, including its re-armament with modern military equipment."I can assure you there is absolute determination to complete these reforms," he said. The reforms were announced by Russia's Defense Minister Anatoly Serdyukov in October 2009. The main idea is to make the army much smaller, but more efficient and better equipped.The massive job cuts involved has angered many servicemen and lead to public protests this month.
You can share this story on social media: