Russia bans adoptions by foreign same-sex couples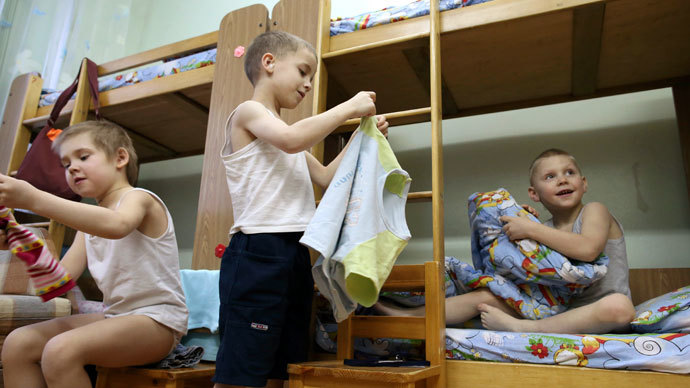 Russia's Prime Minister Dmitry Medvedev has signed a decree banning the adoption of Russian children by same-sex couples, as well as by unmarried citizens of countries where same-sex marriage is legal.
The decree was published on the government web portal and came into force on Wednesday.
The document reads that adoption is allowed to adults of either sex with two exceptions: married same-sex couples from countries where gay marriage is legal and unmarried persons from such states.
The new amendments also cut the period of official consideration of applications from 15 days to 10 and scrap the requirement for the would-be adoptees present official confirmation that their homes comply with basic sanitary norms.
The move comes as a technical amendment to the law passed in mid-2013 and offers detailed legal definitions of basic rules already included in the Russian Family Code.
The explanatory note reads that by introducing the new ban the Russian authorities seek "to guarantee a full and harmonious development for adopted children and to safeguard their psyche and consciousness from possible unwanted influence such as artificial forcing of non-traditional sexual behavior and the suffering, complexes and stresses that, according to psychologists' studies, are often experienced by kids raised in same-sex families."
The idea to ban adoptions to same-sex couples appeared in Russia in 2013 when the issue of legalizing same-sex marriage was discussed in France. Eventually French legislators passed the bill, despite some protests, and the first same-sex wedding took place in Montpellier in late May.
Before parliamentary hearings on the subject President Vladimir Putin told reporters that he would support the ban on adoptions by foreign same-sex couples if parliament approves it. Putin also categorically opposed the legalization of same-sex marriage in Russia, saying that such a move could lead to outbreaks of violence in certain regions.
France is one of several countries to have a bilateral agreement with Russia on adoptions, and in 2012 it ranked fourth by the number of adopted Russian children (after the US, Italy and Spain).
Starting from January 1, 2013, Russia introduced a complete ban on adoptions by American couples and by proxy of US organizations. The officials who promoted the ban said it was caused by US law enforcers' extreme reluctance to cooperate in cases of maltreatment and even murder of Russian children by their adoptive US parents.
The law was named after Dima Yakovlev – a two-year old Russian boy who died in July 2008 after his adoptive father left him locked in the car for eight hours in hot weather. The father was tried for manslaughter, but was acquitted, which caused a wave of outrage among Russian diplomats, mass media and the public.
In late January this year, Foreign Ministry's representative for Human Rights, Konstantin Dolgov, told reporters that there were no plans to extend the Dima Yakovlev law to countries other than the United States.
Dolgov said that the law was working and showing its effectiveness, but admitted problems still existed and not all of the children whose already-agreed adoption was canceled due to the changes had found new families within Russia.
You can share this story on social media: