Vast majority of Russians oppose gay marriage and gay pride events – poll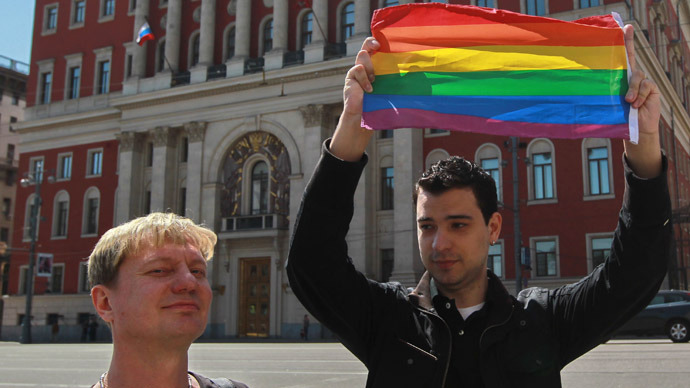 As the Russian parliament prepares for its second reading of a nationwide ban on 'gay propaganda' to minors, polls show that an overwhelming majority of Russians oppose both same-sex marriage and gay pride events.
Around 85 percent of adult Russians said they were strongly against a law that would allow same-sex marriage, the Levada Public Opinion Center reported; 87 percent said they opposed the idea of holding regular gay pride events in their cities.
Researchers claimed that the percent of supporters of same-sex marriage in Russia fell from 14 to just 5 percent over the past three years. The number of those who do not oppose gay pride events is a consistently low 6 percent.
About 23 percent of those polled said they understood the concerns held by Russia's sexual minorities, and believed that they should be left to themselves, minimizing societal intervention in private lives; three years ago, 24 percent of Russians held this belief.
Another 27 percent said that the society must provide 'psychological aid' to gay people, compared to a previous 22 percent.
On the other side of the spectrum, some expressed strong opposition to homosexuality: 16 percent of those polled suggested that homosexuals should be isolated from society, 22 percent said that the treatment of homosexuality must be made compulsory, and 5 percent said that homosexuals should be 'exterminated.'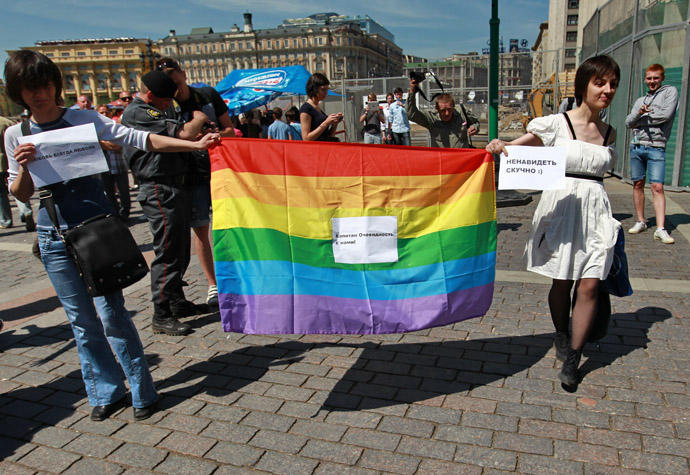 Respondents' attitudes towards adoptions by same-sex couples were roughly the same as towards gay marriage: 80 percent of those polled said it was unacceptable, 5 percent approved, and 15 percent said they had no opinion.
The change in public sentiment comes as the Russian parliament prepares to hold a second vote on a bill that would nationally criminalize the promotion of homosexuality and pedophilia among minors, known as the 'gay propaganda ban' in the media. Similar laws have already been enacted in several of Russia's regions. Violations are punishable by heavy fines, which are bigger for legal entities and public officials, but carry no criminal penalties.
Russian LGBT activists have repeatedly blasted the bill as discriminatory and held rallies and street events against it, which have sometimes ended in violent clashes with conservative community members.
Street demonstrations by LGBT activists are rare in Russia, and gay pride events are even rarer. Moscow city authorities have repeatedly denied requests to hold a gay pride parade in the city, claiming it would disturb ordinary citizens and provoke violent clashes, and that the city's budget could not afford sufficient police protection for the event. The argument once ended with a judicial curiosity – a Moscow court banned gay pride events for a century, in response to a mocking initiative put forward by a gay rights organization.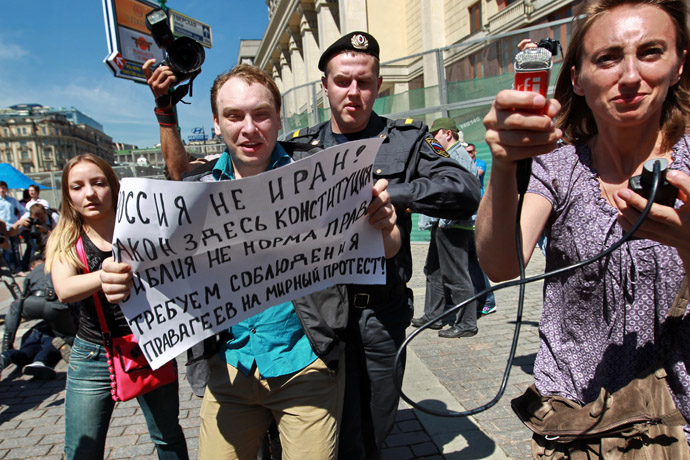 However, in summer 2012 the Russian LGBT community announced that they had held their first-ever pride parade in Moscow. The event was disguised as a march against all types of discrimination, but about 70 of its participants did march under rainbow banners not far from the city center.
Russian legal initiatives against 'gay propaganda' have drawn criticism from international rights groups and organizations, such as the European Union, PACE and the United Nations. The critics noted that the bill discriminated against individuals based on their sexual orientation, violating their human rights, and also noted that the measure limited the freedom of speech.
Russian sponsors of the bill replied that the bill aimed to protect children from premature exposure to sexuality, both homosexual and straight, and was not intended to discriminate against homosexuals. Top Russian officials also explained that the bill protected the majority from a minority that was allegedly aggressive in promoting its values.
You can share this story on social media: