Duma passes compromise amendments to Academy of Sciences reform bill
Published time: 5 Jul, 2013 12:15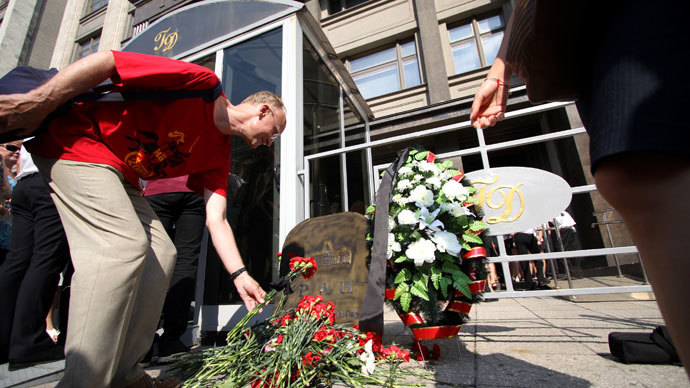 The State Duma has given its approval to the controversial bill to reform the Russian science sector, altering the draft following numerous protests and the personal intervention from President Putin.
The bill was passed in the second reading with 344 votes for, none against and one abstention. The Communist Party Faction left the State Duma session as a protest against the bill and did not take part in the vote.
The original bill has been submitted to the Lower House by the government and approved in the first reading on July 3 despite numerous protests from academics, the science community and students. The first draft ordered three major Russian academies to be merged into one with a single managing body and also that the right to manage the academic budget and property is transferred to a special government agency.
It was the property management part that worried the Russian science community. Opponents of the bill said bureaucrats could not understand the scientists' needs and the changes would lead to decline, if not complete failure of the national science sector.
The president of the Russian Academy of Sciences (RAN) Vladimir Fortov held a meeting with President Vladimir Putin earlier this week asking to postpone the reform and to let him implement his own plan of changes. Putin replied that the bill had been already submitted to the Lower House and cannot be reversed and that it was better to start making corrections than stall in one place.
However, the President prepared a set of amendments and sent them to the State Duma before the second reading was held, the Duma approved them and the new version of the bill looks much less radical.
Now, the three academies will merge without liquidation of their separate governing bodies. The Russian Academy of Sciences remains a state company funded from the budget and will continue to conduct science project management. The budget and property management, however, will be transferred to the new agency, but this agency will be headed by the president of RAN. 
The Communist Party caucus promised to initiate a vote of no confidence in the government as a protest against the science reform. On Thursday the leader of the party, Gennadiy Zyuganov, told reporters that they managed to get the backing of 90 MPs – the minimum required to put the issue to a parliamentary vote, but did not specify when they wanted to initiate the vote.