Russia, US establishing "rhythm of consultations" in defense sphere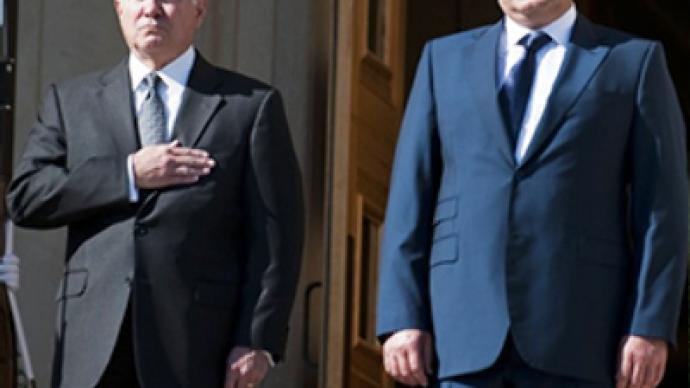 Heads of the Russian and US defense ministries have signed two important agreements in Washington, resuming cooperation suspended in 2008.
Anatoly Serdyukov has become the first Russian minister of defense to visit the Pentagon since January 2005. The main issues of his talks with US Secretary of Defense Robert Gates on Wednesday were the reform of the armed forces and cooperation in the military sphere.
Serdyukov and Gates signed a joint statement and memorandum of understanding that replaced the previous document agreed in 1993. They also discussed the Strategic Arms Reduction Treaty and missile defense.
The meeting is considered as part of resetting Russian-US relations. Military cooperation between Moscow and Washington hit its low point in 2008 after the events in Caucasus.
Military reforms in both Russian and US armed forces are painful, Serdyukov noted at a briefing after his talks with Gates. However, they are necessary "to create a modern army, the army of the 21st century," RIA Novosti quoted him as saying.
Serdyukov expressed hope that his visit will give "a serious impetus for the development of cooperation between the defense ministries of the two countries."
US Department of Defense officials said Serdyukov and Gates "opened the door to military-to-military relations between their countries that have been mostly closed for the past two years."
The biggest advance of the talks was "the renewal of dialogue," Pentagon Press Secretary Geoff Morrell said. "These are important confidence-building steps to overcoming a legacy of suspicion and mistrust that has not been eliminated between our defense establishments."
The Pentagon hopes that Serdyukov's visit will help establish "a rhythm of consultations."
The agreements signed in Washington will encourage the two parties "to have more joint activities, exercises, and programs to be undertaken on several fronts," Gates noted.
The memorandum envisages the creation of working groups that will meet at least once a year. According to Gates, the document "provides a forum through which to execute orders given to defense ministers by Presidents Obama and Medvedev."
A plan of military cooperation will now be developed every year and additional groups could be created to determine joint positions on any aspects of military cooperation.
The heads of Russian and US defense ministers will also meet at least once a year. Serdyukov has already invited his US counterpart to visit Moscow. The media note that Russian issues present a personal interest for Gates, who had to analyze them during 27 years of work in the CIA.
Sergey Borisov, RT
You can share this story on social media: