Russia, Ukraine hammer out historic strategic partnership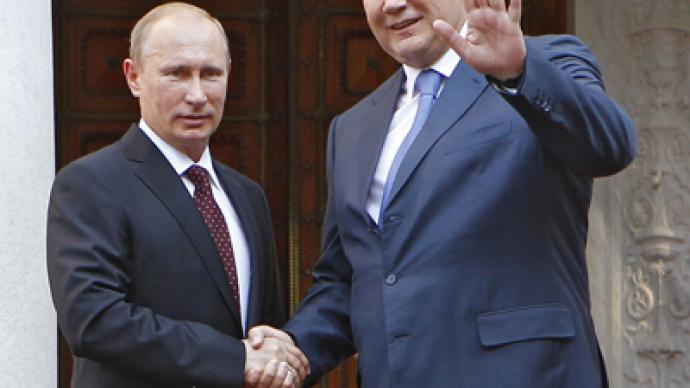 Ukraine's president has played host to the Russian leader at the Livadia Palace, just outside Yalta on the Crimean peninsula, where the two statesmen hammered out a number of important agreements.
Vladimir Putin and Viktor Yanukovich engaged in a reset of a different sort by signing a declaration on bilateral strategic cooperation in the resort city on Thursday.During a joint press conference in Livadia following the fifth session of the Russian-Ukrainian Commission, Yanukovich hailed the document (formally entitled The Declaration on the Content of Ukrainian-Russian Strategic Partnership) as promising to open the door on deeper cooperation between the two nations, which share not only a common border, but a common history as well."The declaration reflects the nature of our relations in all spheres of cooperation without exception, and it emphasizes that these relations are strategic," Yanukovich said.Putin, reminding that Ukraine is Russia's fifth-largest trade and economic partner, said the strategic document forged between Moscow and Kiev reflects "the priority aspects of our cooperation."The Russian leader added that the declaration laid the groundwork for Ukrainian-Russian interaction in practically all essential spheres.Putin and Yanukovich hammered out a number of agreements, touching upon such diverse subjects as Russia's Black Sea Fleet, which has a long-term lease in Ukraine, to scientific and technical cooperation in Antarctica, where scientists are studying the effects of climate change.Russia and Ukraine also signed an intergovernmental memorandum on cooperation in the fight against terrorism, which aims to synchronize legal agreements between the two countries' law enforcement and special services in dealing with new global challenges and threats.There are still some rough spots, however, in the bilateral relationship that need smoothing over. For example, Putin said he would like to see Kiev ratify an agreement on free trade, something that Moscow – at Kiev's bidding – has already done."Ukraine always prevailed as regards that issue, and it eventually pressed us into signing and ratifying it," the Russian head of state noted. "We [ratified the agreement on free trade], but Ukraine has not." Yanukovich, who blamed the delay on unspecified "internal state formalities," said he anticipated that the agreement would be ratified in the near future.Meanwhile, when the subject of European integration among former Soviet states was introduced, Putin could not resist taking a gentle dig at Brussels, which is working overtime to keep its union viable in the wake of a banking crisis that has pushed unpopular austerity measures on the people.Saying that integration choices are a sovereign decision for every country, Putin expressed the hope that "the European Union, despite its own problems relating to Greece, Portugal, Spain and Italy, will pay attention to post-Soviet nations that have been so outspoken about their choice and will make proper conclusions."Since becoming president in 2010, Viktor Yanukovich has helped to improve the climate in Russia-Ukraine relations, which suffered a setback under his predecessor, Viktor Yushchenko. Meanwhile, Kiev's efforts to integrate into the EU took a wrong turn following the imprisonment of opposition leader Yulia Tymoshenko, who is currently serving out a seven-year prison sentence for "abuse of office" charges.
Robert Bridge, RT
Read related column here