Russia offers Washington advice – for a change in Syria
Published time: 18 Oct, 2012 14:49
Edited time: 18 Oct, 2012 19:01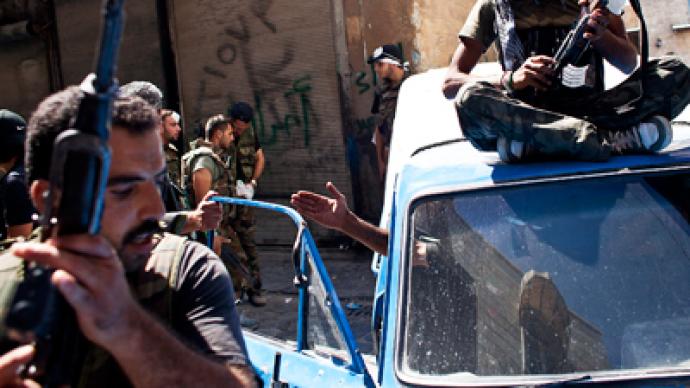 The United States should refrain from lecturing Russia regarding its policy on Syria and at the same time stop sponsoring the Syrian opposition, a Russian Foreign Ministry spokesman said on Thursday.
"We take special interest in judgments aired at official press briefings at the US State Department where Russia's policy is judged and advice given regarding its position," Foreign Ministry spokesman Alexander Lukashevich said at a news conference in Moscow.
The official stressed that Moscow also has some advice regarding US actions in Syria.
"We also have our opinion as to what Washington should do," Lukashevich said. "We would like, for instance, for the United States to use its close ties with the Syrian opposition not to provide it with financial and logistics assistance."
Lukashevich, citing the US media as his source, said Washington may wish to reconsider providing the Syrian opposition "information furnished through intelligence services, as well as the supply of arms…from the military arsenals of third nations."
Instead, the US could "encourage the opposition to seek a political settlement and broad inter-Syrian dialogue," he noted.
Russia and the US remain at loggerheads as to how to resolve the Syrian crisis. Moscow, which supports the Kofi Annan peace plan, is calling for both sides in the conflict to immediately recognize a ceasefire and enter into negotiations. The US, meanwhile, has taken sides with the rebel opposition, the composition of which remains a source of concern for Russia.
"It would be desirable if the US, which often insists on unilateral sanctions against Syria, impartially analyzes the humanitarian consequences of this policy," the Russian official continued.
Last week saw heightened rhetoric between US and Russian officials over a Syrian-bound jet that was forced to land by Turkish fighter jets.
Commenting on the Russian cargo on board, US State Department spokeswoman Victoria Nuland acknowledged that Russia had not violated any international laws but said Moscow's position on Syria was "morally bankrupt."
"We have no secrets," Russian Foreign Minister Sergey Lavrov shot back. "There were, of course, no weapons on the plane and could not have been any."