Russia "will not even read" tough resolution on Syria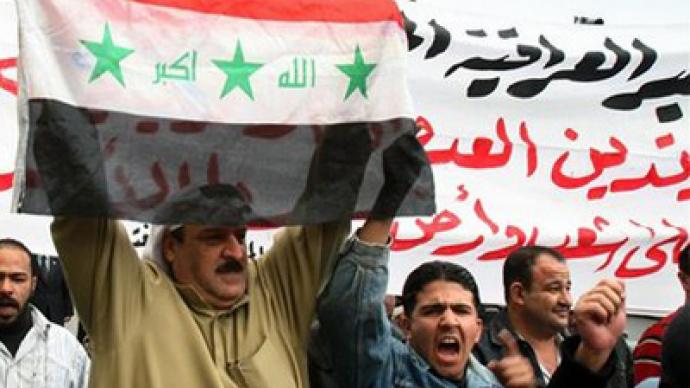 Raising the issue of a resolution on Damascus similar to the one on Libya is "untimely and harmful," the Russian deputy foreign minister has warned.
Moscow is categorically opposed to the adoption of a resolution by the UN Security Council, similar to the document regarding Libya, Sergey Ryabkov said in Deauville, France on Friday.Western diplomats are now pondering actions against Syria's leadership following its crackdown on protesters. "We won't even be considering a text of such a resolution," the deputy minister said. "We have seen the draft and are telling its authors that there are no grounds for considering it at the UN Security Council."The situation in that country is absolutely different from that in Libya, Ryabkov stressed. Moscow is concerned that Western diplomats often behave as if they are "at a low-price clothing shop where one size fits all." On the contrary, here skilled tailors are needed, ones "who would take measurements as well as the clients' interests into account," he said ironically. "So, for the time being we will put this draft resolution aside," without any plan of considering it.Even if one is to look at this issue from a procedural point of view, "for the promotion of the draft one should travel great distances, perhaps to the Moon" before the Security Council will consider it. Ryabkov explained that on Russia's initiative, the resolution was not mentioned at the declaration of the G8 summit.The Syrian leadership is striving for reforms, so it would be a one-dimensional approach to put all the responsibility on the authorities, the diplomat noted. "There are no grounds to transfer the issue to the UN Security Council and there won't be any."According to Ryabkov, Syria presents no threat to the region or international security. The country's government may cope with the situation, "moving along the path of declared reforms." Earlier, Russia's ambassador to France, Aleksandr Orlov, also said Moscow would oppose any tough UN action against the Syrian leadership. Russia has already been "burned" by agreeing to an international military campaign in Libya, he told AP. But the NATO-led campaign in that country has gone beyond the goals envisaged by the UN resolution. Ryabkov also stressed on the sidelines of the G8 summit that Russia was also opposed to any new resolution or sanctions against Iran. The sanction route has been completely exhausted, he said, adding that no new resolution is needed.
You can share this story on social media: