US imposes sanctions on Syrian President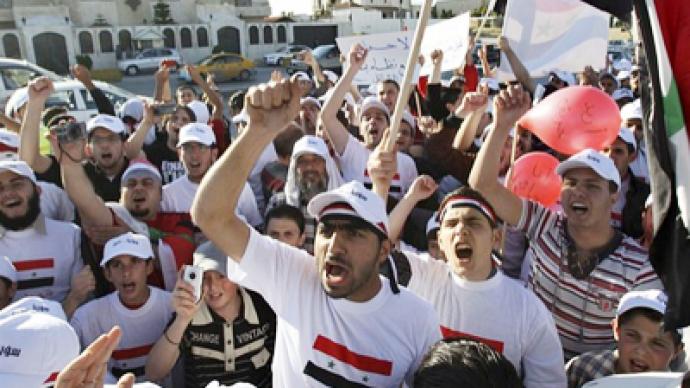 Washington has imposed sanctions on Syrian President Bashar al-Assad for human rights abuses, citing the brutal crackdown on anti-government protesters.
On Wednesday the US Treasury Department announced freezes on all assets in the US or within US jurisdiction that belong to Syrian officials. The Treasury has also barred Americans and US companies from dealing with them.The sanctions will target, along with Assad, Vice President Farouq al-Shara, Prime Minister Adel Safar, Interior Minister Mohammad Ibrahim al-Shaar, Defense Minister Ali Habib, Abdul Fatah Qudsiya, the head of Syrian military intelligence and Mohammed Dib Zaitoun, director of the political security directorate, reports Reuters.The move was followed by Switzerland, which promised on Wednesday to impose travel bans on 13 top Syrian officials and freeze any of their assets held in Swiss banks, matching a decision by the European Union last week. President Assad has not been included on the Swiss sanctions lists.According to human rights groups, at least 700 civilians have been killed in the two months of clashes between Syrian government forces and protesters seeking to oust Assad and his regime.The Syrian authorities have blamed armed groups backed by Islamists and foreign powers for these deaths, saying they have also killed more than 120 soldiers and police.Journalist and author Afshin Rattansi has criticized the US decision to impose sanctions on the Syrian leaders. "If aliens from outer space came down, they would say 'Why is Washington yet again aligning itself with Islamists groups like it did with Al-Qaeda?' The way the US influences the region is bizarre. Take a look at Cuba influencing Venezuela: there is no Fidel Castro and his troops – you get what you want by a living example. The US policy has been exposed in Wikileaks and it is not what people in the streets of Syria or Egypt want. They want to get rid of US puppet dictators," said Rattansi, adding that President Assad was definitely not a puppet in Washington's hands.
Middle East expert Tariq Ali says it's unlikely that the sanctions will have any effect."I don't think sanctions work. They are essentially a symbolic measure. Usually when sanctions are applied against a country, they affect the poor people in that country more than the ruling elite. As we saw for years before the United States invaded Iraq in 2003, they had imposed a bloody sanctions regime, which led to the loss of children's lives," he said."Now they are saying that these sanctions apply largely to Bashar al-Assad and his party's functionaries. Well, these people can still carry on. I don't think they will be too affected. It will be an irritation, but nothing more." "It is always better for a country, any country, to develop organically. If the people can topple a government, that is how it should happen. Whenever the West intervenes, it is usually a disaster," he said.
You can share this story on social media: