Assad can lead transition to democracy or get out of the way – Obama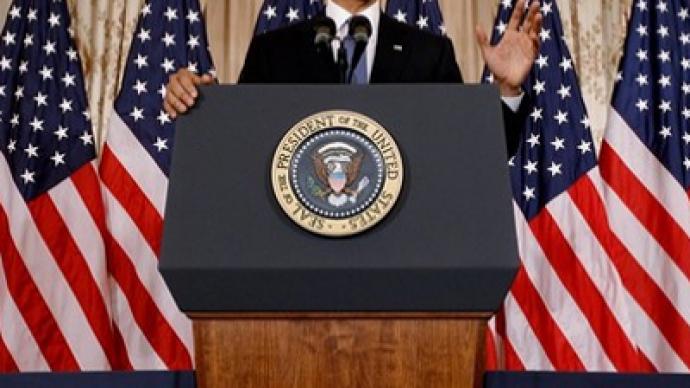 President Barack Obama has addressed the events in North Africa and the Middle East, also sketching the US peace plan for Israel and the Palestinians in his Thursday speech at the State Department in Washington DC.
Obama's ultimatum to Syria's President Assad came during his keynote speech on America's position on the Arab world, where he also announced financial help for Egypt.While confirming the withdrawal of American troops from Afganistan, Obama said US democratic efforts in the Middle East and the North Africa were far from at an end. "Two leaders have stepped aside. More may follow," he said. The scope of US attention has engulfed Egypt, Tunisia, Iran, Syria, Israel, Palestine, Yemen and Bahrain.Obama promised to "promote reform across the region and the transition to democracy," disregarding the cases when these attempts might be answered with violence as in Libya. Obama said that "time is working against Gaddafi," dubbing the opposition's Interim Council "legitimate and credible."Talking of Egypt, Obama said the US would relieve the country of up to $1 billion in debt and help regain access to markets by guaranteeing the $1 billion in borrowing that is needed to finance infrastructure and job creation. He also promised the new Egyptian government to be elected in September that "stolen assets" would be recovered. He added that US Congress is engaged in creating enterprise funds to invest in Tunisia and Egypt. "OPIC will soon launch a $2 billion facility to support private investment across the region. And we will work with allies to refocus the European Bank for Reconstruction and Development so that it provides the same support for democratic transitions and economic modernization in the Middle East and North Africa as it has in Europe," Obama said.At the end of his speech, Obama turned to the Israeli-Palestinian issue. Declaring that Palestine's efforts to delegitimize Israel will end in failure, he, nevertheless, underlined that "the borders of Israel and Palestine should be based on the 1967 lines with mutually agreed swaps, so that secure and recognized borders are established for both states."
Pratap Chatterjee, a visiting fellow at the Center for American Progress, commenting on Obama's speech said that there were few revelations, other than calling on Bahrain to start democracy processes. "The point of this speech is actually to convince the American audience. Barack Obama's goal right now is the 2012 elections. So this speech was not about the Middle East. The $2 billion is small change for these times. And in this grand scale of events $2 billion is nothing. It was what they provide every year to the Egyptian military to buy weapons in the US," Chatterjee pointed out.
Dr Mordechai Kedar from the Israeli BESA Center for Strategic Studies believes the US sanctions will not work for Syria."The Syrian elite cannot have too many assets in the USA and I think in Europe, neither. They really care about the connection of their heads with their shoulders rather than their bank accounts. So I do not think they will be much influenced by the sanctions put on them," said Kedar. "The only pressure the world can maintain on Syria, and will work, is the same pressure which the world maintains on Libya. This is the only way to deal with dictators, because any other pressure that might be inflicted on Syria will be diverted from the ruling elite to the people – and the people will suffer."
Talk show host and author Stephen Lendman in Chicago believes Obama's only briefly mentioning Bahrain – which hosts a US fleet – in his speech, with no talk of condemnation or sanctions over the crackdown there on the Shia opposition proves the double standards that the US implements in its foreign policy."The hypocrisy is glaring, Obama talks about Middle East peace, doesn't say a word about the raging violence in Bahrain, the same thing going on in Yemen, these are regimes that we support," he said. "Let me tell you, what America is doing in Libya," he continued. "It has nothing to do with humanitarian interest for the Libyan people, it is all about power, and money, and control. America wants peace? America does not want peace. It wants this war to continue, it wants to remove Gaddafi, not to help the Libyan people, but to exploit Libya."
Former US diplomat John Graham says that no-one likes Gaddafi, so it was a low-risk option for the US to join NATO in getting rid of him."I do think [Gaddafi] will be gone by the end of the summer," he said. "Bahrain is quite different, we have a major military base there and so he has to tread much more carefully."Graham said that he thought Obama did a good job at saying "Look it's a real world out there. Yes, we will support the family in Bahrain for a traditional national state interest but, by and large, we are trying to take advantage of this huge upheaval in the Middle East."
Shikha Dalmia, a senior analyst at the Reason Foundation says that the US policy is in complete disarray right now and like the rest of the world the US has been taken by complete surprise at what is happening in the Middle East.Dalmia said that 'The US is in no position to oust Assad any more than it can oust Gaddafi. If anything, Assad is even more entrenched in Syria than Gaddafi is in Libya', she continued that 'The US does not have the means or the tools at its disposal to control these events or even shape them.'
You can share this story on social media: