Time to end the war in Syria – Lavrov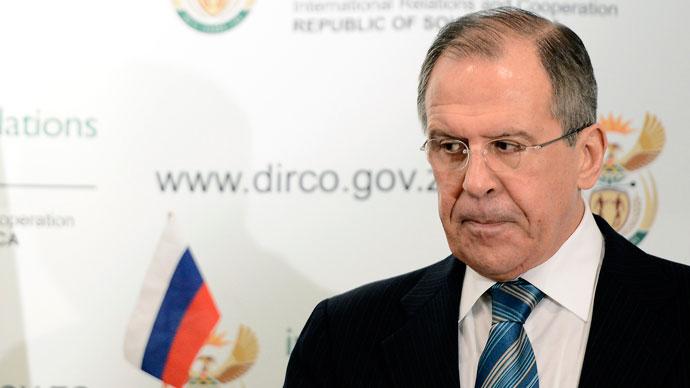 Russia's Foreign Minister, on calling for the cessation of violence in the Arab Republic, has warned against the use of force as a means of resolving the two-year conflict.
"With regards to the Syria conflict, one can come to the conclusion that any plan to settle it through the use of force by any party will not work," Sergey Lavrov said at the opening of the first ministerial session of a Russian-Arab League forum in Moscow on Wednesday.
 
The understanding of the need to start a dialogue is gaining ground, the Russian diplomat emphasized.
 
Lavrov told the forum that Russia is doing all it can to provide conditions for a dialogue to begin as soon as possible, based on the agreements stipulated by the Geneva Communiqué and being promoted by the Arab League, as well as the UN's special envoy Lakhdar Brahimi, he said.
 
Talking about the current situation in the Middle East, Lavrov said Moscow is disappointed with the current developments there, including pockets of armed conflicts in the region, growth in extremist sentiments, terrorism and the uncontrolled proliferation of weapons.

The Russian minister emphasized the participation of the Arab League as the 'central role' in reducing the violence that has swept the Arab world, a phenomenon that has been dubbed the Arab Spring.
 
"We believe the League should play the central role in settling the conflict occurring in the Arab world, including through efforts that promote the resolution of internal conflicts and create conditions for a broad and inclusive dialogue involving all political groups, guaranteeing the rights of ethnic and religious minorities, and certainly refraining from external interference without a clearly formulated UN Security Council mandate," he said.
 
The Russian minister also expressed solidarity with the Arab League on its decision to convene a conference on the creation of a zone free of weapons of mass destruction in the Middle East.

"We will work hard to make sure that these decisions are implemented," he said.

Meanwhile, Lavrov extended an invitation for a meeting between the representatives of the Syrian government and the opposition.

"If this happens, they will feel more comfortable to start this dialogue in Moscow. Certainly, we will provide all the necessary opportunities for this," Lavrov told the press conference following the forum.

Concerning the possibility of opening a dialogue between the two warring sides, Lavrov said it is important that they should not "set preconditions for each other."

Lavrov wrapped up his comments by emphasizing that it's time to "put an end to the two-year war in Syria."
   
Attempts to solve the problem by means of a "military solution" will only meet a "dead end."

Lavrov called on the Syrian government to prove its readiness for dialogue.
Robert Bridge, RT

You can share this story on social media: