NATO attacks Russia with propaganda factsheet – Foreign Ministry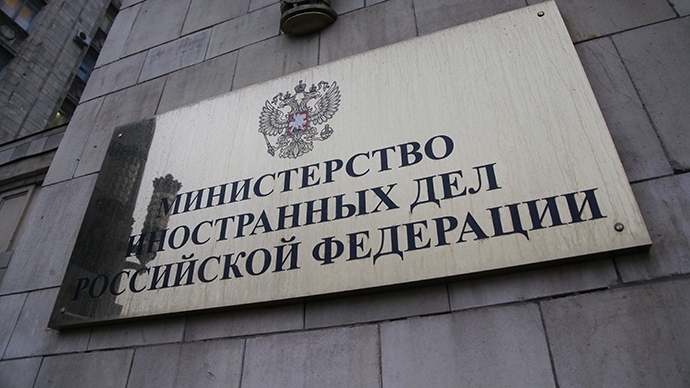 By trying to make Russia the culprit in the current Ukrainian crisis, NATO has outperformed its own propaganda efforts from the aggressive time against Yugoslavia, the Russian Foreign Ministry said in a statement.
Thursday's statement on the Foreign Ministry's website is a reply to a number of recently circulated papers, including a NATO factsheet called "Russia's accusations - setting the record straight". Russian diplomats claimed that the factsheet was an attempt to lay the blame for the crisis in Europe on Russia.
The Foreign Ministry stressed that during the post-Soviet period Russia was honestly developing friendly relations with NATO, and worked on dismantling various Cold War relics, regardless of disagreements over NATO enlargement, missile defense and the western bloc's failure to observe international law.
"After the end of the Cold War our country was taking consecutive steps to discharge the military tension in the Euro-Atlantic region and to cut conventional weapons in Europe. Russia also took the former USSR's obligations and withdrew its troops from East European and the Baltic countries. We also fully honored the treaty on liquidating medium- and short-range missiles," the statement reads.
Russia also accused NATO of violating the 2002 Rome declaration by taking Georgia's side in the brief military conflict of 2008 and by freezing all relations with Russia at the same time.
Regardless of any real chance to rebuild relations that appeared when Barack Obama assumed the office of US President in 2008, the US administration chose not to use it, the Foreign Ministry added. "On September 17, 2009 US President Barak Obama announced the phased adaptive approach to placing US missile defense components in Europe. By doing this Washington started to deploy the ABM systems despite all our concerns," the statement reads.
The ministry added that according to expert estimates the European segment of the US missile defense, supported by NATO allies, will be able to effectively intercept Russian intercontinental missiles by between 2018 and 2020.
NATO is still considered a potential enemy by Russia's official military doctrine. However, over the past decades Russia has developed cooperation with the bloc that included allowing cargo transport through its territory to Afghanistan.
Ordinary Russians still treat the Western military alliance with caution. According to last year's opinion poll conducted by the Levada center, two-thirds of Russians did not consider NATO to be a partner of their country, and only one in seven Russians thought that cooperation with NATO was a good thing. At the same time, NATO ranked only 13th in the rating of external threats, far behind international terrorism, drug trafficking, Mideast countries and China.
You can share this story on social media: