NATO 'base' worse than 'Orange Revolution' threat - Communists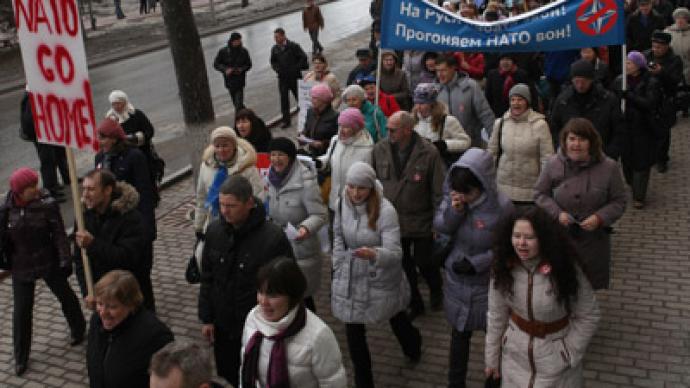 The Communist Party of the Russian Federation (KPRF) has stated that the creation of a NATO transit hub in the city of Ulyanovsk is more dangerous for stability in Russia than the threat of a so-called "Orange Revolution".
"The alliance skillfully disguises its military interventions as humanitarian and its military bases as purely civil facilities," the KPRF press service stated in an open letter to Dmitry Rogozin, Moscow's former envoy to NATO, now a deputy prime minister."Brushing aside concerns of an increasing part of our compatriots regarding a NATO base in Ulyanovsk, you state that this base is a 'phantasmagoria', 'provocation', 'nonsense' and in general not a serious reason for protest actions," the Communists told Rogozin. "The patriotic rhetoric that we used to hear from you in Brussels, has suddenly changed to statements that are in line with NATO policies," they stated. The appearance of foreign military bases on territories of sovereign states has always caused harsh protests among the population, the KPRF said. The Communists stated that NATO has always "extorted unilateral concessions" from Russia. "In 2001, the Russian leadership [closed] its strategically important military bases in Cuba and Vietnam. Then, it actively furthered the creation of NATO bases in Central Asia and did not hamper the process of drawing the Baltic States into NATO. Russia got nothing in exchange," the letter reads. The party also urged Rogozin to stop lecturing them on what corresponds with Russia's national interests and what does not. In Soviet times, the appearance of a NATO facility on the country's territory would be impossible, as would be the alliance's "intervention" in the Balkans, the Middle East and North Africa.The KPRF stressed that the Volga Region (where Ulyanovsk is located) is a large center for Russia's defense industry. "We believe that as deputy premier in charge of the defense industry you must protect the national military-industrial complex rather than give your assessment of the reasonableness of the NATO base establishment. If we are correct, that is in the competence of the Foreign and Defense Ministries," the KPRF stated.Earlier, it was reported that Moscow and Brussels were finalizing negotiations over the deal that would allow NATO to use Ulyanovsk Air Base for deliveries of non-military cargo to and from Afghanistan. The planned agreement stirred a wave of criticism in Russia. However, high-ranking Moscow officials, including Rogozin, insist that no NATO military bases or the presence of the alliance's civil and military personnel are intended, only civilian logistics facilities.
You can share this story on social media: