New Russia weapons to counter NATO strategic fist - expert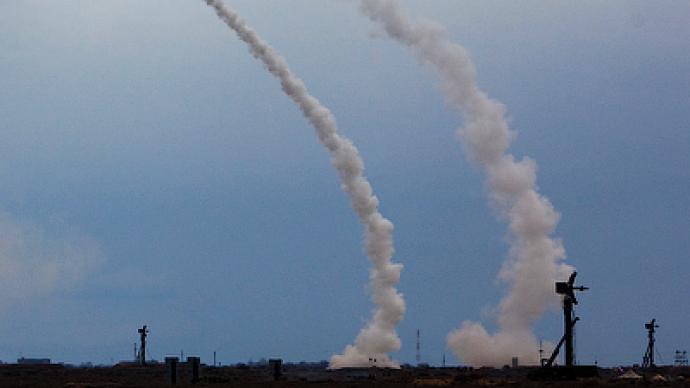 In light of America and NATO's blunt refusal to cooperate with Russia on a missile defense shield in Eastern Europe, Russia has put the development of new offensive weapons on the fast track.
Vladimir Kozin, the leading researcher at the Russian Strategic Research Institute (RISI), praised the test launch on Wednesday of a new intercontinental ballistic missile, saying it is an important step to further perfecting Russia's strategic offensive weapons
"The new missile project is a step in the right direction at a time when the United States is engaged in…large-scale modernization of its strategic and tactical nuclear potentials, and amid the continuing deployment of the European and global missile defense systems," he said.
The researcher said the US system targeted Russia's "national interests and defense nuclear potential," a view held by many Russian military analysts.
Defense Ministry spokesman Vadim Koval said the first launch of the prototype missile, which successfully hit a target on the far eastern Kamchatka Peninsula, took place at the Plesetsk launchpad in northern Russia.
"The launch was conducted using a mobile launch vehicle by RVSN combat units and the Aerospace Defense Forces," the spokesman said.
Meanwhile, Kozin, who is a member of the Experts Council of the Kremlin's Interagency Group for Interaction on Missile Defense with NATO, pointed to NATO's recent summit, where it was decided to "form a sort of Chicago triad – a radically new decision to combine nuclear and conventional weapons, together with the missile defense system, into one strategic fist."
Such a development, says Kozin, presents a real threat to Russia and its allies.
"Such a combination carries even more threats for Russia and its allies and friends, than a separately operating missile shield," according to the top-ranking missile researcher. "Washington, as NATO's May summit demonstrated, continues to neglect the Russian leadership's concerns about the absolutely unjustified assembly of a multi-layered missile defense structure near the Russian borders, as well as Russia's proposals to form a less provocative, but more efficient missile defense structure."
Russia must take adequate counter-measures and develop advanced means to penetrate the US-NATO missile defense infrastructure and, concurrently, to depreciate their nuclear-missile potential, he added.