Russia agrees with US on N. Korea, but warns against military drills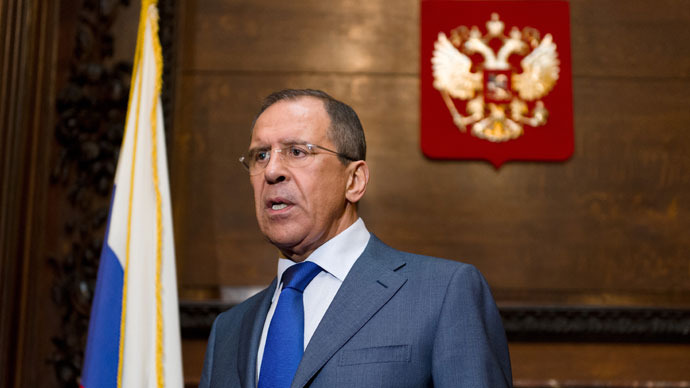 Russian Foreign Minister Sergey Lavrov believes that the North Korea crisis should be given a chance to blow over, and urged calm ahead of talks with his US counterpart, Secretary of State John Kerry.
"No one should intimidate anyone with any military maneuvers," Lavrov said ahead of one-on-one meetings in London on the sidelines of the G8 foreign ministers' summit. "There is yet a chance the situation will calm down by itself."
He also said that the US and Russia have no differences in their stance on the East Asian country.
"There is comprehension that our mutual task is denuclearization of the Korean Peninsula and not allowing steps that would bar [us] from accomplishing this task," FM Lavrov told journalists. "And while there is a chance that the P5+1 talks can be restored we should try to get this [to happen].  In any case, Russia and the US support a political-diplomatic settlement of the current situation."

In recent months, North Korea, led by 30 year-old Kim Jung Un, who assumed leadership after the death of his father Kim Jong Il in 2011, has escalated tension in the region with a series of bellicose acts and statements.
In February, it conducted an underground nuclear test – the first since 2009 - that led to UN sanctions. In response to the condemnations of the international community, Pyongyang said it was no longer keeping by the terms of its 1953 peace treaty with its southern neighbor, and that it was set to abandon its pledges to keep the Korean peninsula a de-nuclearized zone.
Pyongyang has also warned foreigners to leave South Korea, ahead of a potential strike. Seoul says that a test of its previously unseen medium-range Musadan missile, which is capable of carrying nuclear warheads, is imminent.
The US and South Korea responded by signing a deal last month that would make it easier for Washington to intervene in any potential confrontation on the peninsula.
The two countries have also upped the scale of their recent annual joint military drill, in a display of "extended deterrence." F-22 Raptor planes and B-2 bombers flew in the vicinity of the North Korean border, provoking an angry response from Pyongyang.
While Russia has condemned North Korea's behavior as "unacceptable," it has tried to maintain a diplomatic position throughout the crisis.
During a meeting with German Chancellor Angela Merkel earlier this week, Russian President Vladimir Putin warned of the fallout of a potential conflict: "If, God forbid, something happens, Chernobyl, which we all know a lot about, may seem like child's play."

You can share this story on social media: