Russia, G8 reject North Korea's 'provocative and bellicose' behavior
Published time: 9 Apr, 2013 20:21
Edited time: 10 Apr, 2013 07:25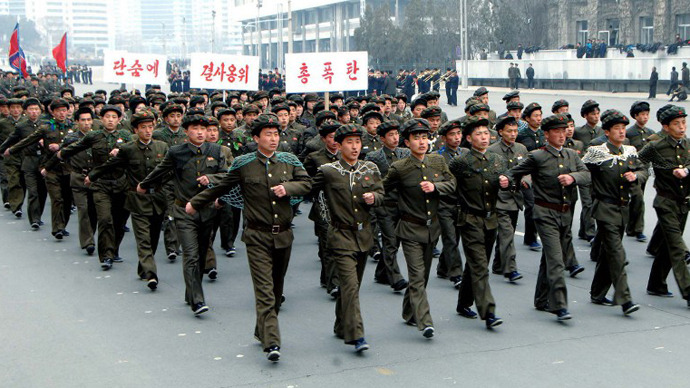 Russia is "in solidarity" with its partners rejecting N. Korean rhetoric, the Russian Foreign Ministry said on Tuesday ahead of the G8 meeting. However, there's no alternative to political and diplomatic efforts to calm the situation, it stated.
Russia shares the concerns of its international partners regarding "the rejection of Pyongyang's current provocative and bellicose line of conduct," Russian Foreign Ministry spokesman Alexander Lukashevich said on Tuesday, speaking before the London meeting of the Group of Eight (G8) foreign ministers. The G8 includes the United States, Britain, France, Germany, Italy, Japan, Canada, and Russia.
"At the same time, we must not renounce political and diplomatic efforts, as any alternative brings the threat of profound upheaval in Northeast Asia," Lukashevich stressed.
Russian Foreign Minister Sergey Lavrov also on Tuesday underlined it was "unacceptable" for the DPRK, being a UN member, to "openly and blatantly violate" UN Security Council resolutions. The minister reminded that the last such resolution was in response to the nuclear test Pyongyang conducted "in violation of its obligations."
Nuclear explosions and missile launches are "no laughing matter," Lavrov added, describing the situation on the Korean peninsula as "very serious."  
"But rhetoric plays just as evil a role because mutual accusations, threats, and warnings may reach a critical point at some moment, when people corner themselves and need to act to present something to public opinion," Lavrov said, adding that Russia and its partners were "consistently working to calm the situation down," and that "measures" were already being taken.
North Korea's latest threats include a warning to all foreigners to evacuate from the South Korea so as to avoid being caught in a possible "thermonuclear war."
Both Russian and the US officials on Tuesday said there were no immediate plans to evacuate their citizens from South Korea.
The evacuation warnings were preceded by Pyongyang declaring a "state of war," threatening a nuclear strike against the US, and reportedly moving mid-range missiles to the country's east coast. The threats were largely explained by the North Korean government as a response to "nuclear blackmail" and "provocations" of America and its allies, most notably, the recent joint US-South Korean military drill.
Despite the piling up of threats from the North, the atmosphere in South Korea remains calm with embassies, airlines, international offices and schools with foreign nationals operating normally. Also, no outward signs of alarm over the unusually tense situation are being noted in the north, according to the Russian Embassy spokesman in Pyongyang.