No step back to Stalin times – Medvedev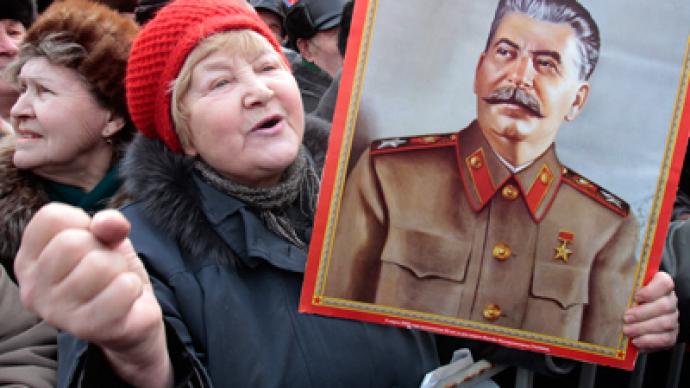 In a far reaching interview Prime Minister Dmitry Medvedev speaks about the recent street protests, Russia-US relations, the global crisis, national defense, and much more.
On the question of domestic matters, the Russian Premier shared his views on last year's rallies following parliamentary elections in December, saying that such public displays of civic action are actually of benefit to the government.
"I can understand why people took to the streets with their demands, as this is only normal and even helpful for the individuals in power, as it helps to create an active dialogue" he explained in an interview with Kommersant daily newspaper.
Medvedev's philosophical take on the protests carried a caveat: "But everyone, including those of radical opposing views, should observe the law."
Everybody should understand that even if an individual does not like the current political system and the set of political leaders, it is unacceptable to beat a policeman, violate laws, and destroy other people's property, Medvedev said.
Medvedev then provided some profound comments on the question as to whether it is possible for Russia to "return to the Stalin-age."
Acknowledging that a segment of society is calling for stricter order and approves of Stalin's repression, the Russian PM said these people should be very careful what they wish for.
"Most people who approve of (Stalin's methods) do not have the slightest idea what it was like in reality," he warned. "It is very easy to admire a tyrant when you recognize that you will not be arrested in the middle of the night, you will not be shot without a trial or investigation, or you will not be sentenced to a 25-year prison term."
Our society today is so different from the society of the 1930s back in the Soviet Union, that nothing of the kind is impossible even to imagine, Medvedev said.
In order to speak about what happened back in 1937, one should realize the moods of 1937, he added.
Georgian Reunion?

The interview then focused on the issue of Georgia, which has just voted to remove President Mikhail Saakashvili from power. Medvedev said Russia is ready for dialogue with the new Georgian authorities, but on condition they recognize the sovereignty of Abkhazia's and South Ossetia.
Asked whether he is ready to meet Georgian Prime Minister Bidzina Ivanishvili, Medvedev expressed optimism, while saying that is was impossible for Moscow to do business with the incumbent Georgian President.
"I once said that one person I am not ready to sit at the same table with is Mikhail Saakashvili," the Russian Premier said. After all, "he started a war; he committed a crime; a crime in the eyes of the Georgian people, and in the eyes of those people he is guilty of killing."
Ivanishvili belongs to another generation of politicians, Medvedev said, adding that Russia will be watching for signals from Georgia, while never forgetting that it was Tbilisi that made the decision to got to war in August 2008.During the night of August 7, 2008, Georgia launched a large-scale military offensive against South Ossetia in an effort to grab the territory. The assault led to casualties among Russian peacekeepers and triggered five days of intense fighting. A French-mediated ceasefire was signed by the sides on August 12.
Tbilisi is now sending signals that it would be good "to fine-tune contacts," but so far this willingness for cooperation has "not reached the diplomatic level."
Medvedev remained upbeat on the possibility of restoring Georgian-Russian relations, while acknowledging that commercial flights have already begun between the two countries, while solid contacts remain between Georgians and Russians.
ABM Blues
On a more urgent geopolitical issue, Medvedev discussed US plans to build a missile defense shield in Eastern Europe, just miles from the Russian border. Moscow has warned its European allies that Russia believes the shield may upset the military balance in the region, possibly even sparking another arms race.
Medvedev admitted that he does not hold out much hope that Moscow and Washington will reach an acceptable agreement on the question.
Russia and the US are "strictly at variance" on European ABM, Medvedev conceded, while adding that regardless who may happen to be the Russian leader, the situation is "unlikely to change," he told Kommersant.
"I have never harboured illusions that myself and (US President Barack) Obama or whoever may change everything within a few years," he said referring to his presidency.
Medvedev then pointed to the positive accomplishments that the two former Cold War foes have been able to achieve.
"In my opinion, we have succeeded in many things: we have signed START-3, agreed on certain issues pertaining to visa cooperation, developed – though not enough – our economic relations, made harmonious decisions during the (global economic) crisis, and managed to agree on very many issues on the foreign agenda," he said.
The premier tempered his optimism with a subtle warning when he said that Russia "cannot remain indifferent to what is happening in the world, to the decisions they are making."
Military Overhaul
On the pressing question of military reform, Medvedev stressed that the initiatives being pursued under former Defense Minister Anatoly Serdyukov should be considered irreversible.
"Decisions on military reform are made by the supreme commander-in-chief. First it was Vladimir Putin, then it was I, and now it is Putin again. Nevertheless, a lot depends on the defense minister," he noted. "Some of these reforms may have involved mistakes, but I have no doubt that Anatoly Serdyukov was carrying them out."
Many of the reform initiatives now being advanced focus on improving the well-being of the troops in the armed forces.
The interview touched upon the sudden dismissal of Serdyukov from his position as Defense Minister.
The Russian premier said Serdyukov was dismissed in order to ensure "impartiality" in the course of an investigation into embezzlement inside the Defense Ministry.
"We can talk about achievements of reforms (in the Russian armed forces): they are undeniable. But there are rules of behavior in such situations that exist in any country," he stressed.
If there are doubts about any particular official and a case has been opened – which is a public matter – his superior is supposed to make a decision on either suspending or dismissing the official in question, Medvedev replied when asked why the former defense minister was dismissed but has not been accused of anything.
Such a decision was made in order to rule out any doubts concerning the impartiality of the investigation, he said.
"This is what is done in all countries," he said.