Russian court issues first 'Bolotnaya' verdict: Protester jailed for 4.5 years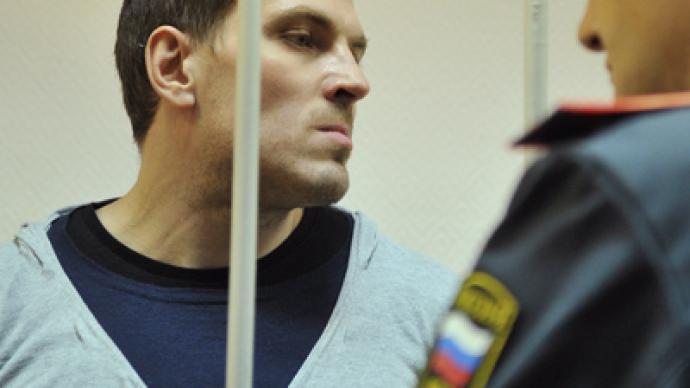 A Moscow court has ordered that a Russian protester receive a 4.5-year prison sentence. The activist was the first of 18 on trial for participating in clashes during May's antigovernment demonstrations.
Maksim Luzyanin, 36, cooperated with the investigation and pleaded guilty on all charges of mass unrest during his participation in a protest held on May 6 at Bolotnaya Square – the eve of the inauguration of Russian President Vladimir Putin's third term. Luzyanin was arrested in late May and charged with 'participating in the unrest' and 'using violence against a representative of power.' He admitted to beating a police officer and throwing rocks during the protest.The defendant confessed to all the charges against him and expressed regret, saying he was "emotional and under the influence of an angry mob."According to the investigation, Luzyanin threw rocks at one police officer, then removed the officer's helmet, bulletproof vest, gas mask and baton with the help of other protesters.Afterwards, Luzyanin and several protesters knocked him down and beat him up, causing the officer to suffer a concussion and other injuries. Following this, the defendant knocked down three more officers and then tried to strangle another one.Luzyanin apologized in front of those police officers, and even shook hands with some of them as a conciliatory gesture.The defendant's lawyer claimed that only one police officer was injured, requiring dental treatment that Luzyanin paid for himself. In light of this, he requested an expedited trial, which meant that Luzyanin could not challenge any of the evidence brought against him but would not receive more than two-thirds of the maximum sentence.
Sentencing debate
The prosecution demanded a six-and-a-half year sentence for Luzyanin. The maximum sentence for such crimes is eight years in jail.Judge Andrey Fedin gave the defendant four-and-a-half years in jail, citing Luzyanin's guilty plea, his cooperation with the investigation – including his testimony against others who were involved in the protests – and his 15-year-old son and a dependent mother.After the sentence was issued, several opposition members and Luzyanin's lawyer said they were unhappy with the length of the prison term, and expected a shorter sentence due to the defendant's cooperation with investigators. Luzyanin pleaded for a suspended sentence in order to continue to support his family. Defense lawyer Sergey Shushpanov told local media that his client will appeal the sentence. "We are ready to go through every level of appeals available, including the European Court for Human Rights," he said.Dmitry Agranovsky, a defense lawyer for others charged in the May 6 mass protests, argued he was disappointed with Luzyanin's sentence, and that he would fight for a shorter jail term for his own defendants. "There is a chance that others on trial will make the conclusion that it does not matter whether you cooperate with the investigation or not, you will still get a harsh sentence," Agranovsky said. "I believe if the defendant cooperated, the court has to go lightly on him."However, Anton Tsvetkov of the Public Oversight Commission said that he thought the sentence was just: "I believe the sentence was fair.""In light of his guilty plea and full cooperation he received an appropriate sentence and if he keeps up good behavior in prison there is a good chance he will be released on parole," Tsvetkov added.The wave of antigovernment protests, which began in November and many of which were attended by tens of thousands, were hailed for being largely nonviolent. Many observers were impressed with the successful demonstrations organized by the Russian opposition.The protests turned violent on May 6 when clashes broke out between demonstrators and police. Officials said that around 30 police officers were injured. About 400 people were detained. Eighteen people were charged with committing violent or aggressive behavior during the demonstrations.The 17 others arrested in the 'Bolotnaya affair,' named after the place in which the demonstrations took place, have maintained their innocence and are due to appear in court in March. A search warrant has been issued for another female protester, whose location is unknown.
You can share this story on social media: