Moscow warns against repetition of Libyan scenario in Syria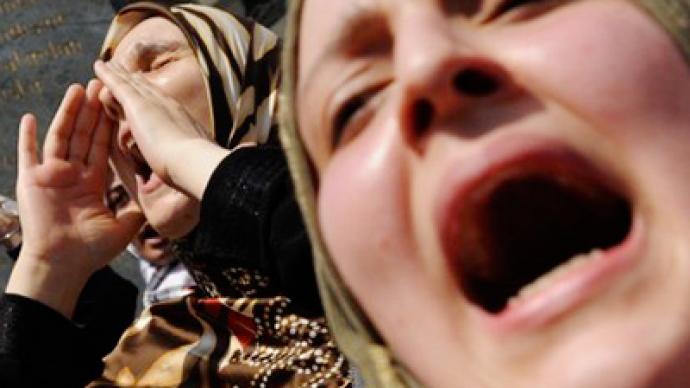 Adopting resolutions that could be interpreted arbitrarily could exacerbate the situation on the ground rather than lead to a settlement, the Foreign Ministry has said.
Moscow will not support sanctions against Damascus, Sergey Vershinin, the head of the ministry's Middle East and North Africa Department, told journalists on Tuesday. "We are categorically against that which doesn't help bring forward a peaceful settlement," the diplomat noted. He described sanctions and pressure as unbalanced measures that will not lead to "less bloodshed and more democracy."Vershinin also reiterated Russia's position in the Libyan conflict: the military operation has reached a deadlock, and the search for a political solution should be resumed. The efforts of the Western countries have confirmed the absence of a military solution. Libyans themselves should decide the future of their country – without outside interference, the diplomat noted. He added that there would be no place for Muammar Gaddafi in a democratic Libya. Moscow is insisting that the Libyan leadership's financial resources must only be used with the sanction of the UN Security Council. Vershinin recalled that funds had been frozen under the council's resolution 1970. Now, consultations on unfreezing these resources are underway. Although Russia is taking part in the talks, it wants reassurance that they will only be spent on humanitarian goals.  The Foreign Ministry has also insisted that the wave of revolutions in the Middle East and North Africa will not undermine Russia's ties with Arab countries. These events are unlikely to lead to the deterioration of ties or "to a reduction in our material cooperation," Vershinin said.He described the cooperation between states as "a very inert thing," adding that it is impossible to replace a gas pipeline so that it goes in a different direction. "You cannot replace the equipment of your army straight away, it takes time," Interfax quoted the official as saying. Moscow has been working to strengthen ties with the countries of the region for decades, Vershinin said. The great potential of cooperation can be used in relations with the new authorities in these states.In Egypt, Russia has established direct contacts with one of the leading political forces – the Muslim Brotherhood movement. There are no restrictions for the contacts with those who legally act on Egypt's political scene, including this movement, according to the diplomat. He explained that contact has been maintained with the Freedom and Justice Party, which has been acting under the aegis of the Muslim Brotherhood.Vershinin also confirmed that Moscow was ready to vote for the independence of the Palestinian territories if the UN General Assembly takes a vote on the issue. He recalled that the former Soviet Union had recognized the independent Palestinian state in 1988, and there is a Palestinian embassy in the Russian capital.
You can share this story on social media: